10 Hours to Live: A True Story of Healing and Supernatural Living (Paperback)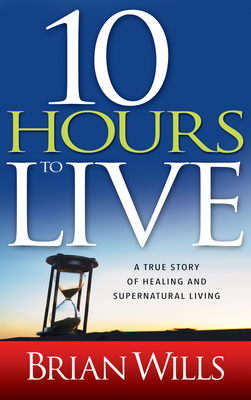 $16.99

Available in our Warehouse: Usually Ships in 3-8 Days
Description
---
"I give him ten hours to live."
That's what the doctor said after diagnosing twenty-two-year-old Brian Wills with one of the deadliest and fastest-growing cancers, known as Burkitt's lymphoma. Incredibly, this rare tumor grew from the size of a golf ball to nine inches in diameter in only three days.
Thus began Brian's life-threatening battle--both physical and spiritual--to receive a full recovery by focusing on God's powerful promises of healing. Through his incredible, true-life testimony of healing against all odds, find out how you can:
Overcome the most hopeless of circumstances
Learn how to apply God's Word for healing
Build your faith for the miraculous
Discover joy in the midst of suffering
Receive comfort in times of trial
10 Hours to Live
includes many other testimonies of people who have been supernaturally healed by the power of God.
About the Author
---
Brian Wills and his wife, Beth, are itinerant missionaries whose vision is to bring hope and healing to this generation through their ministry, Healing For The Nations. Brian and Beth are ordained ministers and graduates of Rhema Bible Training Center in Broken Arrow, Oklahoma. Brian is a guest instructor at Rhema Bible Training Centers overseas, as well as other Bible schools around the world. Brian graduated with honors from Drury University with a B.A. in business administration. He was a National Association of Intercollegiate Athletics (NAIA) nationally ranked tennis player and, at the time, the player with the most wins in school history. Later, he competed on the European Pro Satellite and Challenger circuits. In his early twenties, he was miraculously healed of the worst form of Burkitt's lymphoma, a rare, deadly cancer of the lymph system. His testimony has been featured on Kenneth Copeland's Voice of Victory and Pat Robertson's The 700 Club and in several well-known newspaper and tennis publications. Brian and Beth and their four children currently live near Richmond, Virginia.