The New Low-Maintenance Garden: How to Have a Beautiful, Productive Garden and the Time to Enjoy It (Paperback)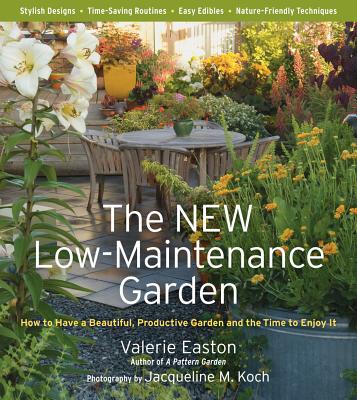 $21.95
This item is not currently available to order.
Description
---
Do you ever lament that you'd love to be able to garden more, but just don't have the time? The demanding pace of modern life leaves little space for the pleasures of gardening. On the other hand, gardening itself could be the culprit: elaborate, traditional perennial borders; water-hungry or disease-prone plants; needy lawns; and high-maintenance plants that require staking or clipping all suck up precious hours.

Simply put, we need to start gardening in a whole new way. In this inspiring book, Val Easton shows exactly how to have a low-maintenance garden that doesn't sacrifice style. You won't have to give up your favorite plants or settle for expanses of ugly bark nuggets. You just have to unlearn some bad old habits and pick up some good new ones.

So, how do you go about making a "new" low-maintenance garden? First, design your garden with maintenance in mind—good-looking hardscape will both save weeding time and showcase your favorite plants. Second, simplify your garden routines—learn the most efficient planting and maintenance techniques and don't get stressed if everything isn't letter-perfect. Third, learn how to work with nature rather than against it. And finally, embrace home-grown fruits, herbs, and vegetables; well planted containers; and thoughtfully chosen plants.

The New Low-Maintenance Garden doesn't just tell you how to garden in a whole new way—it shows you, through profiles and beautiful photographs of real gardens that embody low-maintenance techniques.

The pressures of life are not likely to ease up anytime soon, but the lessons of this timely book will help you banish guilt over undone garden chores and revel in your garden successes.
About the Author
---
Valerie Easton is a weekly garden columnist for Pacific Northwest Magazine of The Seattle Times. Her own low-maintenance garden, the muse for this book, has been published in The New York Times, This Old House, and Horticulture. She has contributed articles on gardens, homes, and the people who make them to a variety of magazines, including Metropolitan Home, Fine Gardening, and Gardens Illustrated. Valerie trained as a Master Gardener and was for eighteen years the horticultural librarian at the University of Washington in Seattle. She gardens, teaches yoga, and blogs (www.valeaston.com) in the village of Langley, on Whidbey Island, Washington. Her previous book is A Pattern Garden (www.apatterngarden.com).
Photographer and journalist Jacqueline M. Koch's assignments have taken her from the Pacific Northwest to the South Pacific, Africa, and Europe. Her portfolio includes gardens and landscape design as well as coverage of world events, and her work has appeared in Pacific Northwest Magazine of The Seattle Times as well as in Garden Design, Time, Newsweek, and The Washington Post. She is also creating a low-maintenance garden of her own for her new home. Her Web site is www.jmkoch.com.
Praise For…
---
"A well-informed and useful guide that will appeal to gardeners all over the country. Recommended." —Library Journal
 
"If you'd like a beautiful garden but find yourself on the treadmill called life, this book just might help you understand it's doable. . . . Provides inspiration while steering readers away from traditional elaborate perennial borders, water-hogging and disease prone plants, high-maintenance lawns, and time consuming plants that require deadheading, pruning, and constant care." —Newsday

"Over the years, countless books have espoused a low-maintenance approach to gardening. None have been as engaging, practical, or inspiring as this latest of Easton's contributions to the gardener's bookshelf." —Pacific Horticulture

"A handy guide to a garden you can raise without a corresponding increase in your blood pressure. . . . Handsome and informative." —Metropolitan Home

"As we gardeners of a certain age look for ways to simplify our lives but still keep our fingers in the dirt, I can see Easton's book being referred to again and again." —Anchorage Daily News

"Will be embraced by gardeners facing the limitations of an aging body or the time constraints of a busy career; by gardeners who want an inviting place to enjoy being outdoors; and, not least, by designers who are asked by nearly every client for a low-maintenance garden." —Digging

"The book is not a how-to manual, but through examples of real-life gardens, offers inspiration for turning gardens into beautiful, sustainable, easy-to-care-for outdoor spaces." —Cleveland Plain Dealer
 
"This book is an invaluable addition to the garden library—destined to be a classic for many years to come." —Garden Design Online

"If you're looking for photographic inspiration, key tips for garden victory, additional books and resources, or success stories from other gardeners, you'll find it all in this well-written, easy-to-navigate guide." —Sacramento Book

"Easton shows us how to garden reasonably without feeling overwhelmed. . . . A long overdue cry for gardening sanity, with guidelines for restoring balance to our lives." —Portland Tribune

"Shows authentic beauty achievable by regular folks like you and me, as opposed to gardening super-heroes who spend every waking moment plucking dead blades out of their chive plants." —Life on the Balcony

"You look and say 'I want this,' realizing that your desire has everything to do with the sanctuary garden that Easton is calling you back to. Low-maintenance is just the part of the equation that gives you the time to enjoy the sanctuary you create." —Fresh Dirt