Agaves: Living Sculptures for Landscapes and Containers (Hardcover)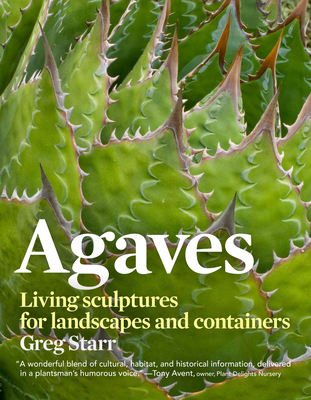 Email us for price & availability: info@oblongbooks.com
Special Order - Subject to Availability
Description
---
Gardeners and garden designers are having a love affair with agaves. It's easy to see why—they're low maintenance, drought-tolerant, and strikingly sculptural, with an astounding range of form and color. Many species are strikingly variegated, and some have contrasting ornamental spines on the edges of their leaves. Fabulous for container gardening or in-the-ground culture, they combine versatility with easy growability.
In Agaves, plant expert Greg Starr profiles 75 species, with additional cultivars and hybrids, best suited to gardens and landscapes. Each plant entry includes a detailed description of the plant, along with its cultural requirements, including hardiness, sun exposure, water needs, soil requirements, and methods of propagation. Agaves can change dramatically as they age and this comprehensive guide includes photos showing each species from youth to maturity—a valuable feature unique to this book.
About the Author
---
Greg Starr is a foremost proponent of Xeriscaping in the American Southwest. He is well known as an expert on low-water-use plants, and has spent most of his life popularizing and promoting the use of xeric plants such as agaves, leucophyllums, daleas, and many others. Starr owns and operates Starr Nursery. He has traveled extensively in agave country, both in Mexico and the United States, to study and photograph agaves in their habitats. He is a prolific writer for many respected publications including Cool Plants for Hot Gardens.
Praise For…
---
"Will prove especially useful for budding botanists and gardeners interested in learning more about agaves in their native habitat." —Library Journal

"Details 75 species with suggestions on how to add it to the home garden. . . . each photo-rich entry also includes a description and care advice." —Arizona Daily Star

"Help[s] readers select plants properly and use them in conjunction with other compatible species." —The Desert Sun

"Once you've seen his photos and read his descriptions, you may find yourself crossing over into agave-nut territory yourself." —Digging

"An extremely useful addition to my library, but even more than that it manages, on every page, to increase the excitement I feel about these wonderful plants." —Danger Garden

"A fine addition to the gardener's library." —Santa Cruz Sentinel​
We appreciate your continued support!
If you would like to make a donation to help us through CLICK HERE.