Seeing Flowers: Discover the Hidden Life of Flowers (Seeing Series) (Hardcover)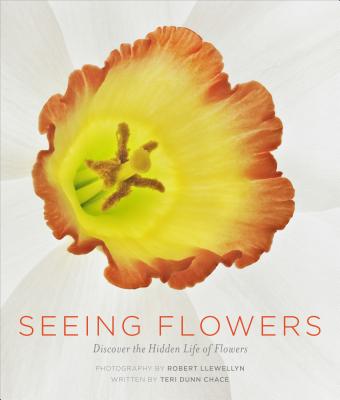 Email us for price & availability: info@oblongbooks.com
Special Order - Subject to Availability
Description
---
We've all seen red roses, blue irises, and yellow daffodils. But when we really look closely at a flower, whole new worlds of beauty and intricacy emerge. Using a unique process that far surpasses conventional macro photography, Robert Llewellyn shows us details that few of us have ever seen: the amazing architecture of stamens and pistils; the subtle shadings on a petal; the secret recesses of nectar tubes.

Complementing Llewellyn's stunning photographs are Teri Dunn Chace's lyrical, illuminating essays. By highlighting the features that distinguish twenty-eight of the most common families of flowering plants, Chace gives us fascinating insights into the natural history of flowers, such as the relationship between pollinators and floral form and color. At the same time she gives us a deeper appreciation of why and how flowers have become so deeply embedded in human culture.

Whether you're a nature lover, a gardener, a photography buff, or someone who simply responds to the timeless beauty and variety of the floral world, Seeing Flowers will be a source of enduring delight.
About the Author
---
Teri Dunn Chace is a writer and editor with more than thirty-five book in publication. She has also written and edited extensively for Horticulture, North American Gardener, Backyard Living, and Birds and Blooms. Raised in California and educated at Bard College in New York, Chace has gardened in a variety of climate zones and soil types. 
Robert Llewellyn's photographs have been featured in major art exhibits, and more than thirty books currently in print. His book, Empires of the Forest: Jamestown and the Beginning of America, won five national awards in nonfiction and photography, and Washington: The Capital was an official diplomatic gift of the White House and State Department.
Praise For…
---
"Llewellyn stitches close-ups to reveal delicate depths—through his magic, there is a world in a daylily." —Shelf Awareness

"Seek out the Seeing series, and prepare for your breath to be taken away." —NYBG's Plant Talk

"Presents 343 blooms in such extraordinary detail that you feel you're glimpsing the garden from an insect's perspective." —Sunset

"Whirlwind tour of flowers, literature, and garden writing." —The Horticult

"Looks at blooms in a way you probably never have." —The Akron Beacon Journal 
We appreciate your continued support!
If you would like to make a donation to help us through CLICK HERE.