Designing with Succulents (Hardcover)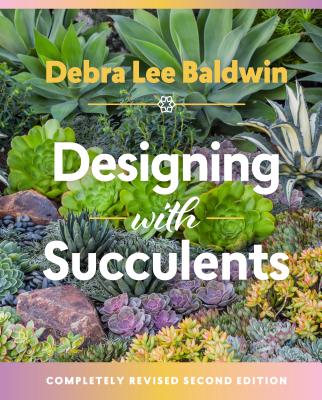 $34.95
Available in our Warehouse: Usually Ships in 3-8 Days
Description
---
"Designing with Succulents is inspiring, practical, and complete—a treasure for any gardener who loves these otherworldly beauties." —Kathleen N. Brenzel, Sunset

Succulents offer dazzling possibilities and require very little maintenance to remain lush and alluring year-round. No one knows them better than the Queen of Succulents, Debra Lee Baldwin. This new, completely revised edition of her bestselling classic is a design compendium that is as practical as it is inspirational. Designing with Succulents shares design and cultivation basics, hundreds of succulent plant recommendations, and 50 companion plant profiles. Lavishly illustrated with 400 photographs, you'll find everything you need to visualize, create, and nurture a thriving, water-smart succulent garden.
About the Author
---
Debra Lee Baldwin, an award-winning photojournalist, is widely hailed as the "Queen of Succulents." She helped launched the gardening world's interest in succulents with her first book, Designing with Succulents, and with her two other books Succulent Container Gardens and Succulents Simplified. Baldwin's own half-acre garden has been featured in Better Homes and Gardens, Sunset, San Diego Home and Garden, and other publications.
Praise For…
---
"A masterly book about the creative use of succulents in modern landscapes." —John Bagnasco, host of Garden America radio show 

"Takes the mystery out of these fascinating plants. The book is well illustrated, full of good information, and eminently readable." —Brian Kemble, curator of the Ruth Bancroft Garden; board member of Cactus and Succulent Society of America

"Another classic with amazing photos. From images that show you what can be done, to explanations that help you do it, this is a must-have for succulent gardeners." —Ken Altman, president of Altman Plants

"Many people know about succulents, but using them in the landscape is another matter. Designing with Succulents shows us how; it's inspiring, practical, and complete—a treasure for any gardener who loves these otherworldly beauties." —Kathleen N. Brenzel, Sunset

"Home gardeners as well as those looking for a 'Zen' book-cation of browsing gorgeous plant photographs should read (and purchase!) Designing with Succulents. Readers will be inspired by both plants and design, and take away principles and projects to incorporate more beauty into their surroundings and everyday lives." —NYBG's Plant Talk

"Now completely revised, this second edition of Baldwin's classic book on succulent culture covers every topic a succulent enthusiast could ask for. Baldwin's personal experiences illuminate every chapter, and each is profusely illustrated with excellent, informative photographs. . . . Just leafing through this book and perusing the illustrations is enough to inspire a gardener to start growing succulents, no matter how limited the space or planting circumstances." —Choice starred review

"If you liked Debra Lee Baldwin's first edition of this book published 10 years ago, then you will definitely have to have a copy of this complete re-write, which includes several featured succulent gardens from designers and dedicated homeowners. . . . a book every succulent lover needs. . . . With hundreds of plant recommendations, as well as plenty of photographs, this is an essential resource for those designing a succulent garden." —Garden Design Magazine

"Thanks to Baldwin's expertise on succulents from propagation to design, beautiful photographs, and personable writing style, [Designing with Succulents] retains its well-deserved status as the bible for succulent gardeners." —Digging 

"More than 400 engaging, colorful photographs, this is a book for the seasoned succulent aficionado or the wannabe windowsill gardener." —Country Gardens

"The succulent bible. . . . the [new edition] goes far beyond revisions, however, to offer brand new content." —The Designer

"A completely revised edition of this bestselling classic. . . . lavishly illustrated." —Alpine Garden Society Journal

"Revamped." —Booklist

"Has everything to keep the succulent lover entertained and plenty of knowledge to help a new gardener become an expert." —Phoenix Home and Garden

"Gardeners new to these plants will find both useful information and inspiration in this book. Experienced growers of succulents also will discover motivation to explore possibilities for refining their gardens and containers, and enjoying gardening with succulents." —The Santa Cruz Sentinel 

"The second edition of Designing with Succulents is an instant classic. It's a must-have for any succulent lover, even if you already own the first edition." —Succulents and More

"Helped launch worldwide interest in succulent plants." —The Valley Roadrunner
We appreciate your continued support!
If you would like to make a donation to help us through CLICK HERE.