The Day the Country Died: A History of Anarcho Punk 1980–1984 (Paperback)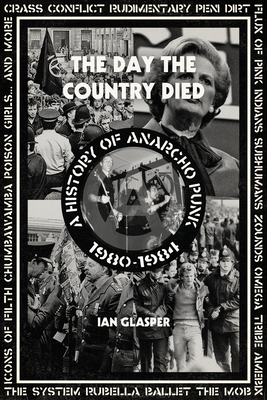 $24.95
This item is not currently available to order.
Description
---
In this revealing history, author, historian, and musician Ian Glasper explores in minute detail the influential and esoteric UK anarcho-punk scene of the early 1980s. Where some of the colorful punk bands from the first half of the decade were loud, political, and uncompromising, their anarcho-punk counterparts were even more so, totally prepared to risk their liberty to communicate the ideals they believed in so passionately. With Crass and Poison Girls opening the floodgates, the arrival of bands such as Amebix, Chumbawamba, Flux of Pink Indians, and Zounds heralded a new age of honesty and integrity in underground music. New, exclusive interviews and hundreds of previously unreleased photographs document the impact of all of the scene's biggest names—and a fair few of the smaller ones—highlighting how anarcho-punk took the rebellion inherent in punk from the very beginning to a whole new level of personal awareness.
About the Author
---
Ian Glasper is a writer, the founder of the now-defunct Blackfish Records, which released 20 punk, hardcore, and metalcore albums, and a member of many DIY punk bands. He is the author of Armed with Anger and Trapped in a Scene: UK Hardcore 1985–1989.
Praise For…
---
"This book is a must have item for anyone who has even a passing interest in the Anarcho-Punk scene, but I can also see this appealing to anyone who enjoys any form of confrontational music or sonic art." —Roger Batty, musiquemachine.com