Restless Days: Haibun Memoir of a Vietnam Veteran's Journey to Create a New Life While Recovering from PTSD (Paperback)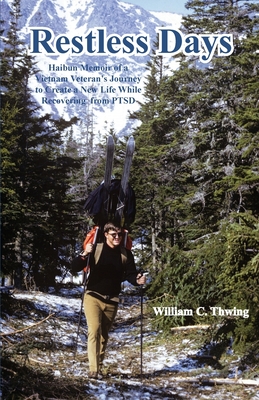 $30.98

Available in our Warehouse: Usually Ships in 3-8 Days
Description
---
Bill Thwing was born in 1942 just after the great depression in midst of a nation where all the men were off at war. He was born just before the baby boom and the rise of modern America in a world very different from the one we live in today. After his graduation from Bowdoin College and his return from Vietnam where he served as a Combat Intelligence Officer, he went looking for God who seemed to be Missing in Action in the new America he discovered. He went looking for a new life which was compatible with the old fashioned values he had inherited from his family of origin. He went looking for a woman who could share that old-fashioned way of life he hoped to forge out of ashes of that old America he once knew. In this little memoir "Restless Days", he records his adventures skiing from Tremblant to Aspen, traveling from Morocco to the Isle of Skye, living in hippy communes from Boston to San Francisco and camping under the stars on Indian lands from Saskatchewan, Canada to the beaches of Zihuantanejo, Mexico. Restless Days is fi lled with humor, poetry, and astute observations about the state of the world in which we live.
Bill Thwing is the author of the Memoir, Vietnam Days and the volume poetry Open Your Eyes both published by ShiresPress in Manchester, Vermont. His poetry has been appearing in anthologies published by the National Library of Poetry and the International Library of Poetry since the mid- 90's.
About the Author
---
William C. Thwing lives with his wife, Joy, in Bennington surrounded by the natural beauty of Vermont and the spirit of Robert Frost, Gramma Moses and Norman Rockwell. Bill writes his poetic memoirs in the midst of the rugged beauty of the Green Mountains. Poetry is his medium of choice.