Paletas: Authentic Recipes for Mexican Ice Pops, Shaved Ice & Aguas Frescas [A Cookbook] (Hardcover)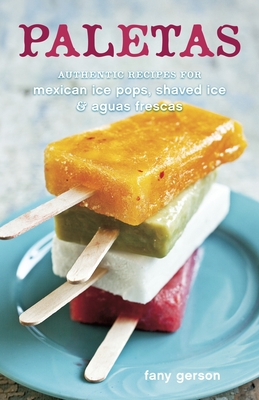 $18.69
This item is not currently available to order.
Description
---
From the pure, radiant flavors of classic Blackberry and Spicy Pineapple to unexpectedly enchanting combinations such as Sour Cream, Cherry and Tequila, or Strawberry-Horchata, Paletas is an engaging and delicious guide to Mexico's traditional—and some not-so-traditional—frozen treats.
 
Collected and developed by celebrated pastry chef Fany Gerson, this sweet little cookbook showcases her favorite recipes for paletas, those flavor-packed ice pops made from an enormous variety of fruits, nuts, flowers, and even spices; plus shaved ice (raspados) and aguas frescas—the delightful Mexican drinks featuring whole fruit and exotic ingredients like tamarind and hibiscus flowers.
 
Whether you're drawn to a simple burst of fresh fruit—as in the Coconut, Watermelon, or Cantaloupe pops—or prefer adventurous flavors like Mezcal-Orange, Mexican Chocolate, Hibiscus-Raspberry, or Lime Pie, Paletas is an inviting, refreshing guide guaranteed to help you beat the heat.
About the Author
---
As the country's most authoritative voice on Mexican sweets, FANY GERSON has been featured in the New York Times, Gourmet, Fine Cooking, Daily Candy, Village Voice, NY Daily News, Time Out magazine, and New York magazine, among other publications. She recently launched the acclaimed La Newyorkina, a Mexican frozen treats and sweets business that began with her love for paletas. A graduate of the Culinary Institute of America, Fany has worked in a range of fine-dining kitchens around the world. Visit www.lanewyorkina.com for more information.
Praise For…
---
"The most notable contenders to the cupcake throne are macarons, whoopie pies, and, my personal favorite: ice pops. The 27-degree temps right now notwithstanding, I'm ready to crack open Fany Gerson's Paletas. Gerson's My Sweet Mexico was one of my favorite cookbooks of 2010, and Paletas looks to be equally wonderful, with recipes for ice pops in flavors ranging from coconut and mango-chile to horchata-strawberry and dulce de leche. Gerson plans to open a shop in New York serving paletas, ice cream, sorbets, and aguas frescas in late spring."
—Publishers Weekly Spring 2011 Announcements: Top 10 Cookbooks, 1/24/11

"Lickably luscious, Paletas lets you freeze your own authentic icy Mexican treats, from the spiced (with chiles) to the spiked (with tequila)—and everything in between!"
—David Lebovitz, author of Ready for Dessert, The Sweet Life in Paris, and The Perfect Scoop
 
"Fany Gerson has followed up the triumph of My Sweet Mexico with Paletas, an engagingly written look at Mexico's frozen treats and refreshing drinks.No one is better suited to introduce us to this delicious branch of Mexican culinary tradition that so deserves to be better known."
—Nick Malgieri, author of BAKE!: Essential Techniques for Perfect Baking