Ivan Ramen: Love, Obsession, and Recipes from Tokyo's Most Unlikely Noodle Joint (Hardcover)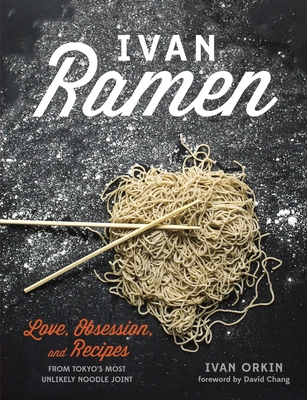 Description
---
The end-all-be-all guide to ramen as told by the iconoclastic New Yorker whose unlikely life story led him to open Tokyo's top ramen shop—featuring 44 recipes!

"What Ivan Orkin does not know about noodles is not worth knowing."—Anthony Bourdain

While scores of people line up outside American ramen powerhouses like Momofuku Noodle Bar, chefs and food writers in the know revere Ivan Orkin's traditional Japanese take on ramen. Ivan Ramen chronicles Orkin's journey from dyed-in-the-wool New Yorker to the chef and owner of one of Japan's most-loved ramen restaurants, Ivan Ramen. His passion for ramen is contagious, his story fascinating, and his recipes to-die-for, including the complete, detailed recipe for his signature Shio Ramen, master recipes for the fundamental types of ramen, and some of his most popular ramen variations.

Likely the only chef in the world with the knowledge and access to convey such a candid look at Japanese cuisine to a Western audience, Orkin is perfectly positioned to author what will be the ultimate English-language overview on ramen and all of its components. Ivan Ramen will inspire you to forge your own path, give you insight into Japanese culture, and leave you with a deep appreciation for what goes into a seemingly simple bowl of noodles.
About the Author
---
IVAN ORKIN is a native New Yorker. He spent a total of thirteen years in Japan, but now calls Dobbs Ferry, New York home. He lives there with his wife, Mari, and three sons, but returns to Tokyo frequently.

CHRIS YING, editor in chief and cofounder of Lucky Peach, is also the coauthor of Ivan Ramen and The Mission Chinese Food Cookbook. He lives in San Francisco with his wife.

NORIKO YAMAGUCHI is a Tokyo-based photographer specializing in food, travel, and still-life photography. Her work has appeared in Elle Japon and Bunshun, as well as in a variety of other Japanese publications.

DANIEL KRIEGER is a New York–based food and portrait photographer. His work has appeared in numerous publications, including the New York Times, Time Out New York, and Food & Wine.
Praise For…
---
"Ivan Ramen is a wonderful glimpse into the delicious, inspiring world of Ivan Orkin."
—Danny Bowien, James Beard Award–winning chef of Mission Chinese Food
 
"We are all fortunate that a young Ivan Orkin, growing up in 1970s suburban Long Island, fell in love with Japanese food. If he hadn't, the world would never know Ivan's amazing ramen, one of the most powerfully delicious noodle soups on the planet."
—Chad Robertson, James Beard Award–winning chef, author, and co-founder of Tartine Bakery and Bar Tartine
  
"Ivan has dedicated his whole life to understanding and creating the perfect bowl of ramen, and he has mastered the two most critical elements: the noodles and the broth. He consistently delivers the best bowls I've experienced in my life. Completely authentic, completely delicious." 
—Ming Tsai, James Beard Award–winning chef, author, and owner of Blue Ginger and Blue Dragon
 
"What Ivan Orkin does not know about noodles is not worth knowing."  
—Anthony Bourdain chef, author, and host of Anthony Bourdain: Parts Unknown