Fringe: September's Notebook (Hardcover)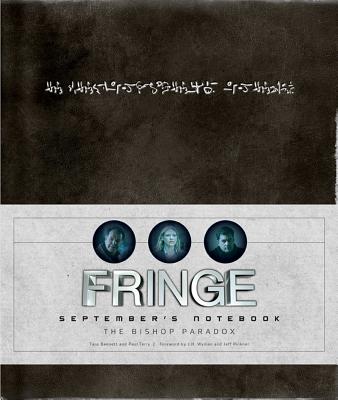 Description
---
Delve into television's most otherworldly phenomenon! Fringe: September's Notebook is a uniquely in-world collection that explores the intricate destinies of Walter Bishop, Peter Bishop, and Olivia Dunham. Gathered by the Observer known only as "September," these pages reveal new truths about the Fringe Division and Massive Dynamic. The book also closely examines the Amber timeline and the alternate universe "Over There." Packed with concept art, exclusive photos, and intriguing ephemera, September's Notebook will satisfy every serious fan's hunger for details about the Observers, quirks and little-known facts about each character, insight into Fringe Science, and much more. "Easter eggs" throughout build on the many symbols and codes woven into the show's fabric, uncovering truths never before revealed. With its layered storytelling, well-rendered characters, and complex overarching narrative, Fringe is the ideal show around which to publish, and Fringe: September's Notebook provides a totally immersive reading experience.
About the Author
---
Tara Bennett is the author of 300: The Art of the Film and official companions to television's LOST and 24. She writes for popular outlets, including SFX, Sci Fi magazine, and Movies.com, and is an adjunct professor of film and television at Rowan University in New Jersey.

J. H. Wyman (Showrunner/Executive Producer, Fringe) was born in Oakland, California, and grew up in Montréal, Canada. Wyman wrote and produced The Mexican, starring Brad Pitt. He has since created several television shows, most notably Keen Eddie, starring Mark Valley and Sienna Miller. Wyman just recently wrote Dead Man Down, a thriller starring Colin Farrell and Noomi Rapace set to premiere in spring 2013. Wyman currently resides in Los Angeles.

Jeff Pinkner (Executive Producer, Fringe) grew up in the suburbs of Baltimore, Maryland. He attended Northwestern University and Harvard Law School. Pinkner began his television-writing career with a freelance episode of The Practice. He has written and produced several series, including Profiler, Early Edition, and The Street. Pinkner served as a writer and producer on all five seasons of Alias and served as showrunner in its final season. He then served as executive producer on Lost and October Road. He lives in Los Angeles.