The Kindness of Strangers (Paperback)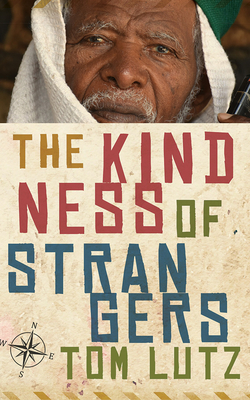 Description
---
Once again, Tom Lutz takes us to seldom-traveled corners of the world—the small towns of western Madagascar, the terraced rice fields in northern Luzon, the scattered homesteads on the Mongolian steppe, the hilltop churches on Micronesian islands, the riverside docks of Dhaka, Ethiopian weddings in Gondar, funeral pyres in Nepal, traditionalist karaoke bars in Bhutan—to bring us random reports of human kindness.

You may never visit these places, but Tom Lutz will do it for you. And while global media may serve up a steady diet of division, violence, oppression, hatred, and strife, The Kindness of Strangers shows that people the world over are much more likely to meet strangers with interest, empathy, welcome, and compassion.
 
About the Author
---
Tom Lutz has traveled in some 150 countries and territories and has written about many of them, as in And the Monkey Learned Nothing: Dispatches from a Life in Transit (Iowa, 2016). The founding editor of the Los Angeles Review of Books, Lutz is distinguished professor and chair of creative writing at University of California, Riverside. He lives in Los Angeles, California.
Praise For…
---
"Each step Tom takes in this compendium of world journeys is an enlightenment. The demanding desires for the next horizon pull you. The blood heat almost destroying the heart of the walking storyteller shake you. We want to join Tom and sit at the precipice of a brave village in the Philippines. We want to feel the entanglement between China and Hong Kong as it is unraveled by the new generations. How can nations pull back their democracy? Where is the demarcation where we acquiesce to brutal dictatorship? Somewhere as we go among peoples, the ones stripped of all resources, we notice, in the larger orb of power, the 'loss of humanity.' Yet, everywhere, how can it be possible, the gifts of kindness come to you, the heart-words and hope-painted bodies of the people. I love this book. I am astounded by Tom's deep drive to care, how he sees without judgment, how he notices the tenderness still beaming in the eyes of the pushed out. I am mesmerized at how the word of the people is cradled in this tour de force."—Juan Felipe Herrera, U. S. Poet Laureate Emeritus and author, Every Day We Get More Illegal
 

"Why should I go anywhere when I have Tom Lutz? The descriptions of these places—Nicaragua to the Philippines to Bhutan and so on—the people who inhabit these places, the smells, the tics, are so alive in these pages. But, of course, I am left wanting these places, these adventures, jealous of these experiences, and even more envious of Lutz's ability to render them so elegantly. This is a book that will at once leave you hungry and satisfied."—Percival Everett, author, Telephone