La Otra Historia de los Estados Unidos (Paperback)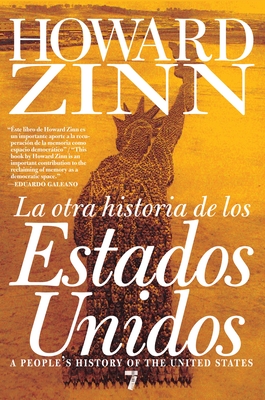 $25.25

Available in our Warehouse: Usually Ships in 3-8 Days
Description
---
En ésta, su más famosa obra, Howard Zinn nos presenta una perspectiva lúcida e imprescindible de la historia de los Estados Unidos. Desde el primer encuentro entre los indígenas americanos y Cristóbal Colón, hasta las aposionadas protestas en contra de la invasión de Irak del 2003, Zinn nos enfrenta con el otro lado de la historia de los Estados Unidos. Lleno de humor, calidez y respeto por aquellos que se han dejado fuera de la historia prevaleciente, La otra historia de los Estados Unidos de muestra la importancia de las experiencias de afroamericanos, mujeres, indígenas, obreros e inmigrantes en la formación del país.

La nueva edición de la La otra historia incluye un análisis de la presidencia Bush, escrito por el autor antes de su muerte, en el cual discute la controversia de la elección presidencial del 2000, las deciciones que se tomaron tras los ataques del 11 de septiembre del 2001, la reación del pueblo americano y la elecciones legislativas del 2006.
About the Author
---
A través de sus ideas sobre la política y la historia, Howard Zinn (1922-2010) influyó en varias generaciones de individuos en el mundo entero. Quizás la más importante de ellas era suidea de que no es posible ser neutral en un tren en movimiento, que la historia no tiene testigos, solo participantes. Después de ser bombardero en las fuerzas aéreas estadounidenses durante la Segunda Guerra Mundial, Zinn se hizo activista en contra de la guerra y lo siguio siendo por el resto de su vida. Fue profesor de ciencia política en Boston University durante venticuatro años. La otra historia de los Estados Unidos (en inglés A People's History of the United States) es una de sus obras más famosas.
Praise For…
---
"The official history is not usually very democratic, so to speak: it reduces the past to meetings and failed meetings, acts of heroism and infamy of a group of selected ones, that as a general rule are white, overly masculine, (part of the) military and wealthy. This book by Howard Zinn is an important contribution to the recovery of memory as democratic space." —Eduardo Galeano

"Professor Zinn writes with an enthusiasm rarely encountered in the leaden prose of academic history, and his text is studded with telling quotations from labor leaders, war resisters, and fugitive slaves." —Eric Foner, The New York Times Book Review