The United States Constitution: A Round Table Comic Graphic Adaptation (Paperback)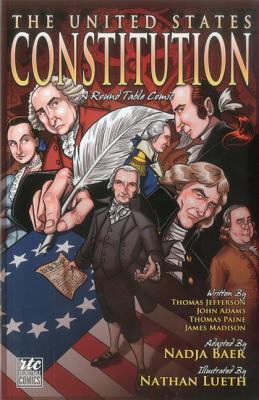 Description
---
Round Table Comics' adaptation of the supreme law of the United States of America, created by the team at Round Table Companies, includes 100% of the original text from the Constitution as well as a narrative to communicate the concepts from one of history's most important documents. Full color illustration throughout combines an entertaining read with the factual accuracy that readers of history expect.
Adapted by Nadja Baer (Delivering Happiness: A Round Table Comic, Altucher Confidential: A Round Table Comic), illustrated by Nathan Lueth (Altucher Confidential, Everything's Okay), and overseen by former documentary filmmaker David Cohen, now VP of Round Table. Guidance provided by Dr. Katie Monnin, assistant professor of literacy at the University of North Florida.
After releasing a variety of graphic works based on licensed bestselling business and motivational titles, Round Table Companies is turning to the educational market and releasing The Constitution. The full-color work includes the full text of the U.S. Constitution, brought to life by illustrations that examine its creation. Round Table Companies is best known for its line of Round Table Comics, comic adaptations of bestselling business titles like Chris Anderson's The Long Tail, or bestelling motivational titles like Robert Renteria's Mi Barrio (based on From the Barrio to the Board Room). Since 2010 the company has published multiple lines of nonfiction graphic adaptations of books by Tony Hsieh, Marshall Goldsmith, Tom Hopkins, Larry Winget and Chris Anderson. RTC worked with Dr. Katie Monnin, assistant professor of literacy at the University of North Florida, to produce a curriculum guide to supplement the comic book in the classroom. The curriculum guide has been released free of charge.
About the Author
---
Nadja has been a words-nerd all her life. She speaks English, German, Italian, and Spanish (with varying degrees of fluency), can teach Taekwondo classes in Korean, and is currently working on expanding her French vocabulary. Since receiving a Bachelor's degree in Creative Writing with a minor in US History at the University of Minnesota, she has served as the office thesaurus, dictionary, translator, and spell-checker in every one of her day jobs. She wrote her first terrible novella at the age of eight, and is now focused on writing comics and novels for young adults. Her work can be seen for free in the online graphic novel, Impure Blood(www.impurebloodwebcomic.com), which is drawn by her soon-to-be husband, Nathan Lueth. Other illustrated projects she has scripted for Round Table include Everything's Okay (Sept 2011), Altucher Confidential (Dec 2011), Delivering Happiness (March 2012), and Influence: Science & Practice (July 2012). Aside from a love of a good story with pretty pictures, Nadja and Nathan share a house, a cat, a turtle, and a belief that more people should embrace their inner nerd"