Naturalist: A Graphic Adaptation (Hardcover)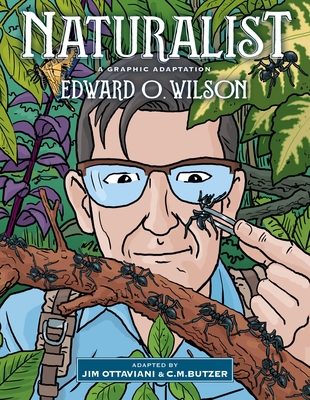 Description
---
"Poised to inspire a new generation of naturalists." - Publishers Weekly
A vibrant graphic adaptation of the classic science memoir
Regarded as one of the world's preeminent biologists, Edward O. Wilson spent his boyhood exploring the forests and swamps of south Alabama and the Florida panhandle, collecting snakes, butterflies, and ants—the latter to become his lifelong specialty. His memoir
Naturalist
, called "one of the finest scientific memoirs ever written" by the
Los Angeles Times
, is an inspiring account of Wilson's growth as a scientist and the evolution of the fields he helped define. This graphic edition, adapted by
New York Times
 bestselling comics writer Jim Ottaviani and illustrated by C.M.Butzer, brings Wilson's childhood and celebrated career to life through dynamic full-color illustrations and Wilson's own lyric writing.
In this adaptation of
Naturalist
, vivid illustrations draw readers in to Wilson's lifelong quest to explore and protect the natural world. His success began not with an elite education but an insatiable curiosity about Earth's wild creatures, and this new edition of
Naturalist
makes Wilson's work accessible for anyone who shares his passion. On every page, striking art adds immediacy and highlights the warmth and sense of humor that sets Wilson's writing apart. 
Naturalist
was written as an invitation—a reminder that curiosity is vital and scientific exploration is open to all of us. Each dynamic frame of this graphic adaptation deepens Wilson's message, renewing his call to discover and celebrate the little things of the world.
About the Author
---
Edward O. Wilson is Professor Emeritus at Harvard University. Arguably the most important evolutionary biologist of his time, he has made seminal contributions to the study of evolution and ecology, created the field of sociobiology, and was one of the earliest voices to speak out about biodiversity loss.  

Wilson is the author of two Pulitzer Prize winning books, On Human Nature and The Ants. He is also the author of many groundbreaking works, including Sociobiology, The Diversity of Life, The Future of Life, Consilience, Naturalist and In Search of Nature.
 
Wilson is the recipient of numerous prizes and awards, and is an active author of media articles and editorials. He was mentioned in the Economist as "one of the world's most distinguished scientists."
Praise For…
---
"Ottaviani (Hawking) skillfully adapts Wilson's spirited 1994 memoir into a graphic narrative full of personality, but without skimping on the science….This hearty graphic memoir is poised to inspire a new generation of naturalists."
— Publishers Weekly

"Ottaviani's adaptation is astonishingly detailed…Butzer's illustrations are charming... Wilson's life is undoubtedly a rich and fascinating one."
— Booklist

"This is a wonderful idea brilliantly executed…The story captures Wilson's warm, gentle humor, his sense of adventure, and his passion for his work. It is an accessible story that still conveys the science of the original edition. It's a must-have for Wilson fans…but will also reach a new generation of readers. A perfect gift for the comic book fan or budding naturalist on your list."
— Cool Green Science

"Through Ottaviani's interpretation of Wilson's words, as well as Butzer's skillful capturing of thoughts and events in his colourful and accessible art, Naturalist: A Graphic Adaptation manages to both inform and entertain. It tells the story of Edward O. Wilson's remarkable life and career in a way that impresses and inspires, and reading it with hopefully prompt others to follow the same path as Wilson and do what they can to increase knowledge and understanding of the natural world."
 
— Culture Fly

"A convincing, and compelling, version of Naturalist…this version is readable and approachable, and was well worth doing."
— New Welsh Review

"Entertaining, absorbing, informative, insightful, thoroughly 'reader friendly' in presentation, and inherently interesting from first page to last, Naturalist: A Graphic Adaptation will prove to be a uniquely welcome and enduringly popular addition to community and college/university library biography collections."
— Midwest Book Review

"It was fun and easy to be inspired by Edward O. Wilson's curiosity…I would highly recommend this book for teenagers who seek knowledge or any adult who want to mix up their reading with something that will inspire."
— Get In My Garden

"The graphic format works well for such a tale.... I enjoyed this book a lot and more than I thought I might. I think many readers of this blog will too"
— Mark Avery's Blog

"Edward O. Wilson, one of the world's best scientists, grew up catching insects and snakes in the forests and swamps near his home. This graphic novel tells his life story in a truly eye-catching way."
— Science+Nature

"It is a challenge to adapt an admired memoir or other work such that the core of the content and ''feel'' of the original are not diminished or lost.. In this case, Ottaviani has avoided these pitfalls, producing a skillful, respectful adaptation....If you've heard Wilson's name and wanted to learn more about his background, development as a scientist, and many contributions to myrmecology, ecology, and other endeavors, this book is a good introduction. If, like me, it has been a few years since reading "Naturalist," this adaptation is a fun way to get reacquainted. For a budding naturalist, this book may be a source of inspiration."
— Natural Areas

"E.O. Wilson comes off looking like the super hero that he truly is. I highly recommend this book for kids of all ages who want to learn a lot about conservation and commitment....Get this book! Everyone in your house will be curious to look through it and will surely appreciate it's presence on the coffee table."
— E-Magazine

"This is an inspiring and accessible account – of his career and the fields he helped to define – for all ages."
— In Practice

"In this colorful portrayal of the life of the award-winning evolutionary biologist, the reader is shown the recipe that helped shape this ever inquiring youth into the world recognized scientist."
— Manhattan Book Review

"[A] wonderful graphic adaptation of biologist EO Wilson's memoirs. It's touching and enlightening and leaves you feeling excited about the natural world."
— Five Books