A Dog Called Perth: The True Story of a Beagle (Paperback)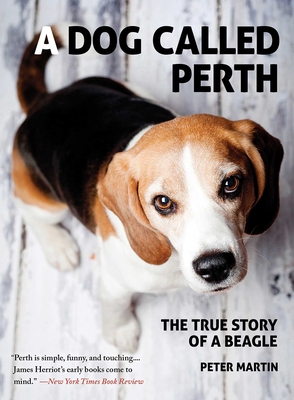 $16.99
This item is not currently available to order.
Description
---
This heartwarming story of a truly remarkable dog, who changed the lives of her owners forever, will move and delight dog lovers everywhere.

From the moment Peter and Cindy Martin spotted her as a puppy in a kennel she came streaking toward them and staring with her intense gaze, they knew she was the one. Almost immediately, she became a central part of their household. Alwayas left to run free, she became indefatigable explorer, gone for hours, sometimes entire days, but her infallible compass always brought her home. From her exploits in upstate New York to the story of her incredible survival in the Vermont wilderness and her later adventures in the English countryside, Perth displayed the same pluck, intelligence, devotion, unshakable trust, and unstinting love.

Anyone who has ever owned or grown up with or wanted a dog will be captivated by this extraordinary, beautifully written homage to a very special creature.
About the Author
---
Peter Martin was born in Argentina and educated in America. He has taught English literature at universities here and in England, and is the author of the recently acclaimed Life of James Boswell. He and his wife, Cindy, spend much of their time in Appletree Cottage in the village of Bury, England.
Praise For…
---
"Perth is simple, funny, and touching….James Herriot's early books come to mind." —New York Times Book Review

"Martin is more eloquent than most [dog] owners [and his] biting prose enlivens the bio of Perth the beagle."
—USA Today

"An adventure story, a love story and a touching tribute to a dog that changed a family's life forever…sure to delight anyone who has ever loved a dog, beagle or otherwise."
—St. Louis Post-Dispatch

"Perth is simple, funny, and touching….James Herriot's early books come to mind." —New York Times Book Review

"Martin is more eloquent than most [dog] owners [and his] biting prose enlivens the bio of Perth the beagle."
—USA Today

"An adventure story, a love story and a touching tribute to a dog that changed a family's life forever…sure to delight anyone who has ever loved a dog, beagle or otherwise."
—St. Louis Post-Dispatch