The Teacup and the Skullcup: Where Zen and Tantra Meet (Paperback)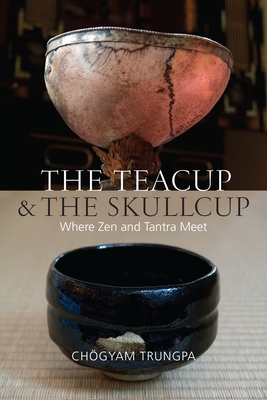 $19.75
This item is not currently available to order.
Description
---
An exposition of the similarities and differences between Vajrayana Buddhism and Zen, by one of the twentieth century's greatest meditation teachers.

The Teacup and the Skullcup is made up of edited transcripts from two seminars that Chögyam Trungpa gave near the beginning of his North American teaching career in 1974--one in Barnet, Vermont, and one in Boston--called "Zen and Tantra." Although Trungpa Rinpoche belonged to the tantra tradition, he acknowledged the strength and discipline gained from Zen influence. Through these talks you can see his respect for the Zen tradition and how it led to his using certain Zen forms for his public meditation hall rituals. He discusses the differences in style, feeling, and emphasis that distinguish the two paths and shows what each one might learn from the other.
    
Also included are Trungpa Rinpoche's commentary on the Ten Oxherding Pictures and an essay he composed in memory of Shunryu Suzuki Roshi, a close friend with whom he continually exchanged ideas for furthering buddhadharma in America.
About the Author
---
CHÖGYAM TRUNGPA (1940-1987)—meditation master, teacher, and artist—founded Naropa University in Boulder, Colorado, the first Buddhist-inspired university in North America; the Shambhala Training program; and an international association of meditation centers known as Shambhala International. He is the author of numerous books, including Shambhala: Sacred Path of the Warrior, Cutting Through Spiritual Materialism, and The Myth of Freedom.
Praise For…
---
"This elucidating compilation is a unique milestone in the annals of philosophical and phenomenological thinking, as well as Buddhist practice. Scholarly and poetic, The Teacup and the Skullcup takes on the provocative nuances of Zen and tantra as 'consociational' allies in a new Western matrix. The compilation of discourse shows the inimitable brilliance of one of the twentieth century's greatest meditation teachers whose 'Socratic rap' and generosity to students is unsurpassed. East also meets East here, one could say, with wit, aesthetic grace, profound and subtle insight. I am so grateful."—Anne Waldman

"For years Chögyam Trungpa dazzled us with his diamond wisdom at various venues from coast to coast. We delighted in his insights into the arts of Zen and its relationship to the tantric teachings. A whole generation of Buddhist was thus nourished. Now, The Teacup and the Skullcup skillfully makes available the heart of this extraordinary master to a new generation of practitioners. It should be on the bookshelf of every serious student of Buddhism."—John Daido Loori

"Trungpa Rinpoche's astonishing take on Zen and tantra reads like a speech delivered from another planet. What we have in The Teacup and the Skullcup is less a work of explanation and exposition than a bravura performance—a wild, weird demonstration of intellectual daring and outrageously dead-on spiritual vision."—Norman Fischer

"The Teacup and the Skullcup is a jewel box of illumined insights, alert humor, and serious genius. Every creative artist and creative meditator should have these pages to go through."—Michael McClure