Turntables and Tropes: A Rhetoric of Remix (Paperback)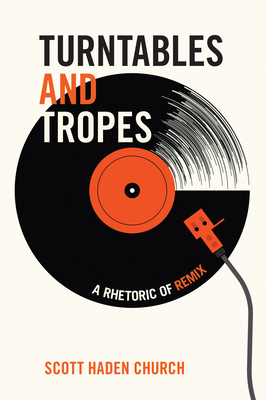 $60.13
This item is not currently available to order.
Description
---
The creative practice of remix is essential to contemporary culture, as the proliferation of song mashups, political remix videos, memes, and even streaming television shows like Stranger Things demonstrates. Yet remix is not an exclusively digital practice, nor is it even a new one, as there is evidence of remix in the speeches of classical Greek and Roman orators. Turntables and Tropes is the first book to address remix from a communicative perspective, examining its persuasive dimensions by locating its parallels with classical rhetoric. Through identifying, recontextualizing, mashing up, and applying rhetorical tropes to contemporary digital texts and practices, this groundbreaking book presents a new critical vocabulary that scholars and students can use to analyze remix. Building upon scholarship from classical thinkers such as Isocrates, Quintilian, Nāgārjuna, and Cicero and contemporary luminaries like Kenneth Burke, Richard Lanham, and Eduardo Navas, Scott Haden Church shows that an understanding of rhetoric offers innovative ways to make sense of remix culture.
About the Author
---
SCOTT HADEN CHURCH teaches courses in media studies, communication theory, and popular culture at Brigham Young University, where he is an associate professor in the School of Communications. He has been awarded the Phyllis Japp Scholar award from the University of Nebraska–Lincoln and the Ruth S. Silver Research Fellowship in Mass Media Ethics from Brigham Young University.
Praise For…
---
Turntables and Tropes by Scott Haden Church is an interdisciplinary journey across media and culture, demonstrating how classic rhetoric remains fully at play in contemporary times. From Isocrates to Girl Talk, Church performs like a record digger and producer, splicing and dicing examples from history and contemporary culture to put remix into practice in a comparative work primed to revisit important questions on authorship and collective creativity.—Eduardo Navas, associate research professor, School of Visual Arts, College of Arts and Architecture, Pennsylvania State University

This book is not just about remix; it is itself an impressive performance of remix. Like a skillful DJ, Scott Haden Church samples from and recombines a wide range of existing source material—not only drawing on the recently released hits in remix studies but also mobilizing deep cuts that go all the way back to the ancients—to assemble a remarkably insightful, innovative, and entertaining investigation of the rhetorical properties and discursive dimensions of remix.—David J. Gunkel, Presidential Research, Scholarly and Artistry Professor, Department of Communication, Northern Illinois University, and author, Of Remixology: Ethics and Aesthetics after Remix