Papers of the Fifty-First Algonquian Conference (Papers of the Algonquian Conference) (Paperback)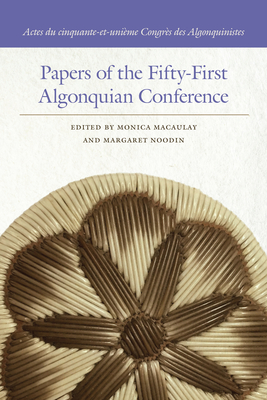 $44.95
This item is not currently available to order.
Description
---
Papers of the Algonquian Conference is a collection of peer-reviewed scholarship from an annual international forum that focuses on topics related to the languages and cultures of Algonquian peoples. This series touches on a variety of subject areas, including anthropology, archaeology, education, ethnography, history, Indigenous studies, language studies, literature, music, political science, psychology, religion, and sociology. Contributors often cite never before published data in their research, giving the reader a fresh and unique insight into the Algonquian peoples and rendering these papers essential reading for those interested in studying Algonquian society.
About the Author
---
Monica Macaulay
received her PhD in linguistics from the University of California–Berkeley. She is a professor of language sciences at the University of Wisconsin–Madison and on the board of the Endangered Language Fund, a nonprofit organization that funds language revitalization and preservation projects around the world. She also works closely with the Menominee Indian Tribe of Wisconsin on language reclamation and revitalization.
Margaret Noodin received an MFA in creative writing and a PhD in English and linguistics from the University of Minnesota. She is a professor at the University of Wisconsin–Milwaukee where she teaches Anishinaabemowin and also serves as the associate dean of the humanities. She is also cocreator of www.ojibwe.net and has published two bilingual collections of poetry in Anishinaabemowin and English.