Soup Night: Recipes for Creating Community Around a Pot of Soup (Paperback)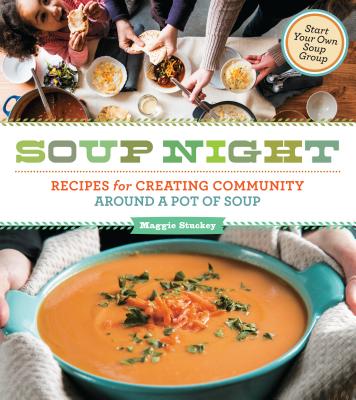 $21.95
This item is not currently available to order.
Description
---
Soup nights are a stress-free way to bring friends together. The host provides two or three pots of soup, while the guests bring their own dishes and silverware, and perhaps a salad or some bread. Neighbors get to know each other by name and people of all ages can connect and socialize. This practical guide encourages you to start your own soup group, with scores of recipes for soups and sides that your friends will be lining up to taste.
About the Author
---
Maggie Stuckey is a writer who grows vegetables and cooks up a storm in her Portland, Oregon, home. The author of Soup Night, The Bountiful Container and seven other books on gardening and horticulture, she is happiest when tending her vegetable garden and using the outcome to create new soups.
Praise For…
---
This is a fun book of soup recipes — a great resource for fellow soup-lovers out there — and it comes with a side dish of warm fuzzy feelings.
— Chinook Observer
A charming prompt to open your home to company in a lo-fi way, without the pressure of multiple courses, elaborate table settings and epic clean-up.
— Clean Eating Magazine
For those of us who love cookbooks with heart and substance, Soup Night will occupy a well-deserved spot on your shelf. And don't be surprised if it inspires you to start your own Soup Night, large or small. And even if you're like me — I have no neighbors within shouting distance, literally — you'll reach for this book's soup recipes time and again, especially as the snow begins to fly.
It's a simple, powerful idea captured in a stunningly beautiful book
More than a cookbook, Soup Night delivers a practical guide for hosting a casual affair where a simmering pot of soup (or two) is the star of the party.