Learn to Timber Frame: Craftsmanship, Simplicity, Timeless Beauty (Hardcover)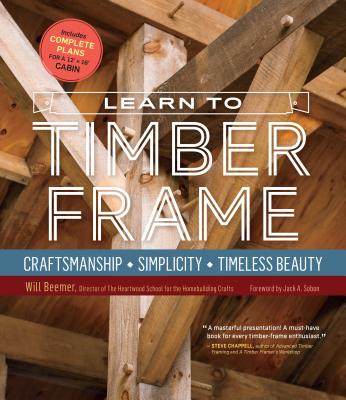 $24.95

Available in our Warehouse: Usually Ships in 3-8 Days
Description
---
The first guide to timber framing written specifically for beginners! Expert Will Beemer takes you through the entire process from start to finish, beginning with timber sourcing and ending with a finished building. Using full-color photos, detailed drawings, and clear step-by-step instructions, Beemer shows you exactly how to build one small (12ʹ x 16ʹ) timber-frame structure — suitable for use as a cabin, workshop, or studio. He also explains how to modify the structure to suit your needs and location by adding a loft, moving doors or windows, changing the roof pitch, or making the frame larger or smaller. You'll end up with a beautiful building as well as solid timber-framing skills that you can use for a lifetime.
About the Author
---
Will Beemer is a founding member of the Timber Framers Guild and served as Co-Executive Director for 11 years. He's been a builder for over 40 years and an educator in the building trades for 30 of those. With his wife, Michele, he owns and operates the Heartwood School for the Homebuilding Crafts in Washington, Massachusetts, which has been teaching courses in timber framing, home building and other trades since 1978. Beemer has taught timber framing around the world, including in Patagonia (with Rocky Mountain Workshops), at Palomar College in California, at North House Folk School in Minnesota, and through numerous Guild workshops and projects. He has authored many articles on basic and advanced timber framing techniques and is a regular contributor to Timber Framing (the quarterly journal of the Guild) and Fine Homebuilding and has also written for Wood Design & Building and Joiner's Quarterly.
Jack A. Sobon is an architect and builder specializing in timber-framed buildings. A founding director of the Timber Framer's Guild of North America and founder of the Traditional Timber Frame Research and Advisory Group, Sobon has devoted his 38-year career to understanding the craft of timber framing. Using only traditional hand tools, he has framed and erected over 50 structures. He is the author of Build a Classic Timber-Framed House and coauthor of Timber Frame Construction. A graduate of the Rhode Island School of Design, Sobon teaches and consults nationally on traditional building structures and timber-framing techniques.