Lead with Your Heart . . . Lessons from a Life with Horses (Hardcover)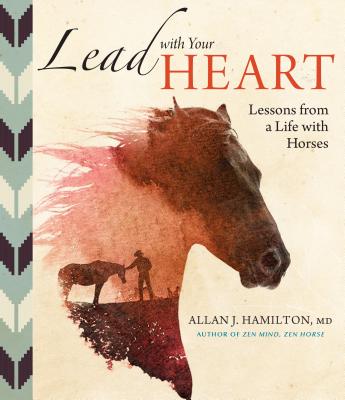 $18.95
This item is not currently available to order.
Description
---
2016 Foreword INDIES Gold Award Winner
2016 Gold Nautilus Book Award Winner
2017 Silver Independent Publisher Book Award Winner
2017 Silver IBPA Benjamin Franklin Award Winner

Award-winning author and celebrated neurosurgeon Allan J. Hamilton combines his understanding of the human brain with nearly 30 years' experience training horses to offer wisdom on such universal themes as leadership, motivation, ambition, and humility. The results are showcased in more than 100 thoughtful essays that treat working with horses as a metaphor for personal, professional, and spiritual growth. Whether you're searching for greater spiritual depth or simply want to better understand your four-legged partner, this wise and important collection has something for you.
About the Author
---
Allan J. Hamilton, MD, is a Harvard-trained brain surgeon, a renowned horse trainer, a developer of equine-assisted learning programs, and the author of Lead with Your Heart and Zen Mind, Zen Horse (Gold Nautilus Award winner). He is a professor of neurosurgery at the University of Arizona and a medical script consultant for the hit television series Grey's Anatomy. He raises Lipizzan horses on a small ranch on the outskirts of Tucson, Arizona.
 
Praise For…
---
"Allan Hamilton is a real brain surgeon with true horse sense. If you want to be a better leader, teacher, parent — a more conscious human being, rather than a human doing — this is a book to keep close."
— Stephen Kiesling, editor-in-chief, Spirituality Health

"Dr. Hamilton blends horse sense with common sense and adds lessons on trust, respect, and compassion, which we can take from the round pen, to the saddle, to the office, and to our living rooms."
— Molly Sweeney, vice president of the Horses Humans Research Foundation

"Lead with Your Heart takes you deep into learning the art of horsemanship and helps you enter the sensory-based world of the horse."
— Temple Grandin, author of Humane Livestock Handling and Animals in Translation

"What a gem of a book! Allan Hamilton offers jewels to enrich our relationships with horse, family, colleagues, and self. This is the sort of book to keep close to refer to as life's inevitable chaotic waves threaten."
— Barbara K. Rector, CEIP-ED, co-founder of Equine Facilitated Mental Health Association

"Recent research tells us that horses are much smarter than we once believed. Allan J. Hamilton provides an excellent foundation for how to achieve a deeper and more rewarding partnership with them."
— Wendy Williams, author of The Horse: The Epic History of Our Noble Companion

"Dr. Allan Hamilton's unfailing respect for the dignity and wisdom of horses provides an excellent blueprint for all who love our equine companions."
— Elizabeth Letts, New York Times best-selling author of The Eighty-Dollar Champion and The Perfect Horse

"Hamilton transfers life lessons learned from his history with horses to be applicable to anyone wishing to live a more mindful life.  Both the writing and paintings invite quiet reflection on the ways we live, act, and interact with each other, horses, and the world."
— Carmela Caruso, Bookseller at Novels Novelties Bookstore
"Allan Hamilton is a real brain surgeon with true horse sense. If you want to be a better leader, teacher, parent — a more conscious human being, rather than a human doing — this is a book to keep close."
— Stephen Kiesling, editor-in-chief, Spirituality Health

"Dr. Hamilton blends horse sense with common sense and adds lessons on trust, respect, and compassion, which we can take from the round pen, to the saddle, to the office, and to our living rooms."
— Molly Sweeney, vice president of the Horses Humans Research Foundation

"Lead with Your Heart takes you deep into learning the art of horsemanship and helps you enter the sensory-based world of the horse."
— Temple Grandin, author of Humane Livestock Handling and Animals in Translation

"What a gem of a book! Allan Hamilton offers jewels to enrich our relationships with horse, family, colleagues, and self. This is the sort of book to keep close to refer to as life's inevitable chaotic waves threaten."
— Barbara K. Rector, CEIP-ED, co-founder of Equine Facilitated Mental Health Association

"Recent research tells us that horses are much smarter than we once believed. Allan J. Hamilton provides an excellent foundation for how to achieve a deeper and more rewarding partnership with them."
— Wendy Williams, author of The Horse: The Epic History of Our Noble Companion

"Dr. Allan Hamilton's unfailing respect for the dignity and wisdom of horses provides an excellent blueprint for all who love our equine companions."
— Elizabeth Letts, New York Times best-selling author of The Eighty-Dollar Champion and The Perfect Horse

"Hamilton transfers life lessons learned from his history with horses to be applicable to anyone wishing to live a more mindful life.  Both the writing and paintings invite quiet reflection on the ways we live, act, and interact with each other, horses, and the world."
— Carmela Caruso, Bookseller at Novels Novelties Bookstore