The Chants of the Holy Spirit: Gregorian Chant (CD-Audio)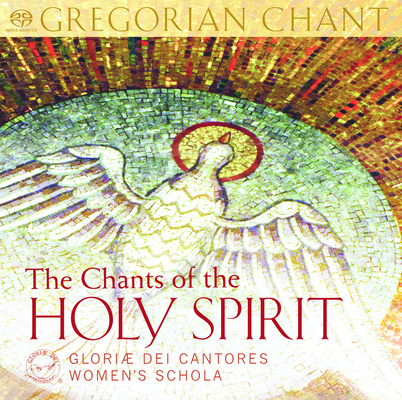 $18.99
This item is not currently available to order.
Description
---
The disciples waiting in the Upper Room, the rush of wind, the tongues of fire, and the spreading of the Gospel are all depicted in these Gregorian chants from two masses for the Feast of Pentecost. Opening and closing with the traditional tolling of the Angelus bell, this SACD also features a reading of the Pentecost story from the book of Acts, and Guillaume Dufay's Veni Creator Spiritus.
About the Author
---
Gloriæ Dei Cantores Schola is dedicated to the singing and study of Gregorian chant. Its expertise and experience come from daily chanting of the Liturgy of the Hours as well as the Ordinary and Proper of the Mass at the Church of the Transfiguration in Orleans, MA. The Schola also conducts chant workshops and performs in concert with Gloriæ Dei Cantores. Years of study with Dr. Mary Berry, CBE, founder of the Schola Gregoriana in Cambridge, England, and the monks of St. Peter's Abbey in Solesmes, France, also contribute to the Schola's passion for Gregorian chant as a vibrant and living form of sung prayer. Gloriæ Dei Cantores Schola has been critically acclaimed in both Europe and the United States for its proper regard for rhythmic flexibility and its sensitivity to both musical and textural phrase.

Gloriae Dei Cantores (Singers to the Glory of God) holds a passionate dedication to the faithful representation of spiritual and musical authenticity in the choral arts. Sharing its vision of inspiration and hope, the choir has touched the hearts of audiences in twenty-four countries in Europe and Asia, as well as extensive tours and concert series in the United States. The choir's catalog of more than fifty recordings showcases an expansive repertoire, encompassing both masterworks and rarely performed musical treasures from Gregorian chant to the twenty-first century. Richard K. Pugsley and Gloriae Dei Cantores have garnered high praise for bringing lesser- known, yet fully deserving composers and their works to light. The choir makes its home at the Church of the Transfiguration in Orleans, Massachusetts, where it sings worship services throughout the year.
Praise For…
---
"Three of the finest chant CDs have been released by Gloriæ Dei Cantores: The Chants of Angels, The Chants of Mary and The Chants of the Holy Spirit. Put a Gloriæ Dei Cantores' SACD on your surround sound stereo and be transported to a timeless place of eternal beauty." —Kansas City Star

"...a  schola of seven members of the choir[Gloriae Dei Cantores] based on Cape Cod have sung another collection of Gregorian chants, preparing the interpretations among themselves without a director. I was always impressed by the chant recorded here... but this new approach worked out for the last three discs strikes me very favorably... I hope they give us more, especially if the thematic program or the liturgical event is worked out as well as these are. Nicely done. " —Fanfare

"This is a highly recommended disc." —Audiophile Audition