Horses Speak of God: How Horses Can Teach Us to Listen and Be Transformed (Paperback)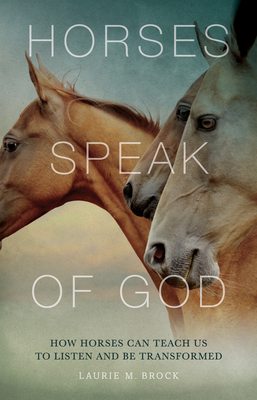 $16.99

Available in our Warehouse: Usually Ships in 3-8 Days
Description
---
This is what happens when a writer, preacher, and lover of words encounters some of creation's wisest theologians…horses.
First, she argues with them. They are, after all, horses. What could they possibly know about life and God that theologians haven't already written? But slowly she engages their language and listens to their holy wisdom, attending to how they express their being, their actions, and their relationships. She allows horses to draw her out of the faith of intellect and into a deeper faith of emotion, body, and soul.
With edgy honesty and humor, Brock invites all who have longed for a deeper spiritual encounter with God to join her in the saddle (and occasionally on the ground) to discover how horses speak of God and how their ways of knowing help us to discover ways of God speaking to us.
About the Author
---
A former attorney, Laurie M. Brock is an Episcopal priest serving St. Michael the Archangel in Lexington, Kentucky. She also volunteers as a crisis chaplain with the Lexington Police Department. She blogs at revlauriebrock.com, is a contributor to Lenten and Easter devotions for Forward Movement, co-authored Where God Hides Holiness in 2012, and is a frequent retreat leader for ecumenical and interfaith gatherings about sacred brokenness, sharing the Gospel through social media, and the balance between thinking our faith and feeling our faith.
Praise For…
---
"You don't have to be smitten with horses to fall in love with this book, which is rich with self-awareness and insight, anchored in the realities of living with intention, reverence, and love." –Meredith Gould, author of Desperately Seeking Spirituality
 
"'Sit deeply.' Thrown by her horse, Laurie Brock received that counsel from her riding instructor. 'Sit deeply and ride.' Brock's book centers the reader in the necessity of balance and breath, routine and repetition, in our physical existence and our spiritual lives as well. Her relationships with the horses she rides, grooms, and loves speak to our relationship with both the embodied and the transcendent. In the world of riding, some actions feel intuitive, while others require us to do what seems strange. We cannot grow without persistent practice, whether as riders or people of faith. It is not enough to approach our incarnate God with our intellect. Will we show up to meet God the way Brock settles on her horse, ready to move together, to be as one?" –Rev. Martha K. Spong, author of Denial is My Spiritual Practice

"This is a beautifully written meditation on belief, the holy, and the healing power of horses.  Mertonian in its wisdom, this profound book not only helped me to see the magic of animals in our everyday lives but also allowed me a better understanding of my own faith journey in the Episcopal church." –Silas House, author of Southernmost
 
"Laurie Brock takes common things—horses and humans, saddles and stirrups—and finds in them profound truths. This beautiful and honest book will give you new insights into yourself and your relationship with all God's Creation—even if you've never once been on a horse." –Nurya Love Parish, Executive Director, Plainsong Farm; Priest-in-charge, Holy Spirit Episcopal Church
 
"I've seen books change lives. This one demonstrates the importance of nurturing faith with our whole selves, in work and play and relationships. Sometimes it's a pleasant canter. Sometimes it's a hard fall. All the time, it is holy." –Rachel G. Hackenberg, co-author of Denial Is My Spiritual Practice
 
"Laurie Brock writes beautifully, with great depth and passion. She gives us a sense of how horses – powerful, beautiful animals – might teach us about ourselves and about God." –Reverend Canon Scott Gunn, Executive Director, Forward Movement

"In this slender, meditative volume, Episcopal priest and saddle seat equestrian Laurie Brock considers how horses and their ways of knowing can help humans find the divine—and perhaps also themselves. Brock's writing is both honest and humorous and speaks particularly to those who find their church in the time they spend with horses, in barns, and in their emotional engagements with their pastimes." —"8 Books for the Barn," US Equestrian, (Winter 2018)

"Even though I am open to all spirituality and have spent time in the Christian church with friends, it is easy for me to feel alienated by some Christian focussed writing. I felt very included by Laurie's book, both as a woman with her own spiritual life that is sometimes a challenging path, and as a horse woman and an Equine Facilitated Therapist. I found much wisdom, compassion, sisterhood and authenticity in the writing. Engaging with both horses and God is not an easy path and both will land you unceremoniously on your butt when that needs to happen and I so appreciated the honesty of that experience being shared." —Shelley Carr BA (Hons), MNCP (Accred) www.equinesoulconnection.com