Women Heroes of World War II—the Pacific Theater: 15 Stories of Resistance, Rescue, Sabotage, and Survival (Women of Action #18) (Hardcover)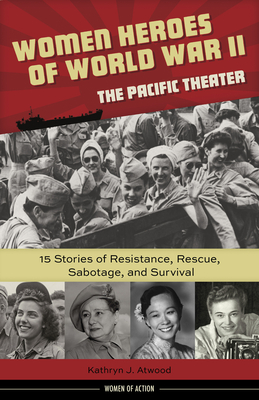 $19.99
This item is not currently available to order.
Other Books in Series
This is book number 18 in the Women of Action series.
Description
---
A Notable Social Studies Trade Book for Young People 2017

Glamorous American singer Claire Phillips opened a nightclub in manila, using the earnings to secretly feed starving American POWs. She also began working as a spy, chatting up Japanese military men and passing their secrets along to local guerrilla resistance fighters. Australian Army nurse Vivian Bullwinkel, stationed in Singapore, then shipwrecked in the the Dutch East Indies, became the sole survivor of a horrible massacre by Japanese soliders. She hid for days, tending to a seriously wounded British soldier while wounded herself. Humanitarian Elizabeth Choy lived the rest of her life hating war, though not her tormentors, after enduring six months of starvation and torture by the Japanese military police. 

In these pages, readers will meet these and other courageous women and girls who risked their lives through their involvement in the Pacific Theater of Operations during World War II. Fifteen suspense-filled stories unfold across China, Japan, Malaya, Singapore, the Dutch East Indies, and the Philippines, providing an inspiring reminder of womens' and girls' refusal to sit on the sidelines around the world and throughout history. 

These women—whose stories span 1932 to 1945, the last year of the war—served in dangerous roles as spies, medics, journalists, resisters, and saboteurs. Seven of them were captured and imprisoned by the Japanese, enduring brutal conditions. Author Kathryn J. Atwood provides appropriate context and framing for teens 14 and up to grapple with these harsh realities of war. Discussion questions and a guide for further study assist readers and educators in learning about this important and often neglected period of history. 
About the Author
---
Kathryn J. Atwood is the author of Women Heroes of World War I and Women Heroes of World War II and the editor of Code Name Pauline: Memoirs of a World War II Special Agent. She has contributed to The Historian; War, Literature, and the Arts; and the collections Des Plaines River Anthology and Holocaust Heroes: Fierce Females. Visit her online at www.kathrynatwood.com.
Praise For…
---
"So meticulously researched and jam-packed with engaging stories of extraordinary women, interwoven with the essential facts of the conflict in the Pacific. What an accomplishment! Kathryn Atwood's finely detailed and fast-paced writing makes for fascinating reading, exquisite close-ups of little-known women and a much needed perspective on World War II. Before the bombing of Pearl Harbor through the long years of Japanese occupation, women bravely, day by day, stood with the victims of war and thwarted the enemy. Finally, their stories are told." —Mary Cronk Farrell, author of Pure Grit: How American World War II Nurses Survived Battle and Prison Camp in the Pacific


"Atwood's vivid, accessible storytelling brings to life the oft' forgotten female spies, saboteurs, and survivors who were utterly crucial to American victory in World War II. This book rightly solidifies their place in human history." —Ben Montgomery, author of The Leper Spy and New York Times bestseller Grandma Gatewood's Walk

"Anyone who thinks that women's only responsibility in World War II was keeping morale high on the home front will change this view after reading about spies, prisoners of war, guerilla fighters and other courageous women in Kathryn J. Atwood's Women Heroes of  World War II—the Pacific Theater. By using their own voices from memoirs, diaries and other sources, Atwood clearly lets us know that valor is not, and never has been, only a men's trait." —Elizabeth M. Norman author of We Band of Angels: The Untold Story of American Women Trapped on Bataan

Kathryn Atwood's Women Heroes of WWII-the Pacific Theater tells the stories of fifteen gutsy ladies—writers, agents, activists, nurses, survivors, and others—whose bravery, resilience, and determination to take risks, confront adversity, and even face death are revealed from a perspective too often ignored. A modern day Profiles in Courage.  —David Rensin, co-author with Louis Zamperini of his autobiography, "Devil at My Heels," and his collection of life lessons, "Don't Give Up, Don't Give In."


"Kathryn Atwood presents refreshing perspective into the horrors of the Pacific War through the forgotten stories of heroines who have mostly been lost in the vast historiography of World War II."  —Jenny Chan, director, Pacific Atrocities Education

"A worthy addition to military collections." —Kirkus Reviews

"Amid the cruelty and inhumanity of "the war without mercy," Atwood presents readers, young and old, with inspiring stories of women whose courage and endurance restore our faith in the ability of ordinary people to survive, resist and ultimately triumph over evil." —Robert Messer, Associate Professor Emeritus, 20th Century U.S. History, University of Illinois at Chicago

"This follow-up to Atwood's Women Heroes of World War II (2011) is part helpful informational text, part enthralling narrative; each of these 15 profiles could constitute a cliffhanger screenplay" —Booklist, starred review

"A suitable addition to works on World War II and a fine follow-up to Atwood's Women Heroes of World War II" —School Library Journal

"Highly recommended. It's aimed at teens, but I thoroughly enjoyed it." —The Deliberate Reader