Women of Steel and Stone: 22 Inspirational Architects, Engineers, and Landscape Designers (Women of Action) (Paperback)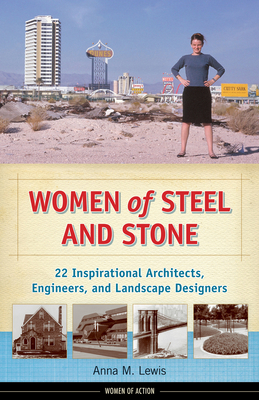 Description
---
2017 Best STEM Books List

Women of Steel and Stone features 22 thoroughly researched and engaging profiles of architects, engineers, and landscape designers, describing these groundbreakers' strengths, interests, and challenges as they were growing up and starting their careers, and what they achieved. Inspiring a new generation of girls who are increasingly engaged in STEM (Science, Technology, Engineering, Math) fields, the biographies stress hard work, perseverance, and creativity. Set against the backdrop of landmark events such as the women's suffrage and civil rights movements, the industrial revolution, and more, the profiles offer not only important historical context but also a look at some of the celebrated architects and engineers working today. Sidebars on related topics, source notes, and a bibliography make this an invaluable resource for further study.
About the Author
---
Anna M. Lewis is an award-winning toy inventor and the owner of Ideasplash, a company that promotes child creativity through writing, websites, and classes and presentations in schools. She is a monthly contributor to the Interesting Nonfiction for Kids blog, and her articles have appeared in Appleseeds magazine, Odyssey magazine, and Toy Design Monthly. She lives in St. Charles, Illinois.
Praise For…
---
"What caused a few women to counter the trends and choose these professions? What difficulties did they face in fields so new to them? And did the influences that marked their early histories reveal themselves in their work and careers? Anna Lewis's book raises these questions, central for young people considering the future."  —Denise Scott Brown, co-founder, Venturi, Scott Brown and Associates

"A much-needed, clearly presented history." —School Library Journal 

"Inspiring." —Booklist

"An engaging book that will open up the world of architecture, landscape architecture, and engineering to young people. It reveals the inspiring and sometimes bittersweet stories of successful women." —Judith B Tankard, landscape historian and author, Gertrude Jekyll and the Country House Garden


"Women of Steel and Stone is chock-full of role models. With easy-to-read and well-written stories of inspirational women, you can pick up the book and read about just one of these accomplished women or treat yourself to all 22." —Stacey M. DelVecchio, 2013–14 Society of Women Engineers President


"Anna Lewis skillfully delivers real-life stories of successful women in these fields to inspire and inform readers." —Lucy Sanders, CEO and cofounder, National Center for Women and Information Technology (NCWIT)

"For anyone interested in the field, these are inspiring stories!" —Mid-Ohio Valley Parent Magazine

"Any individual interested in women's accomplishments in these fields will find this an entertaining read." —Bookloons

"A fabulous resource for young women interested in these fascinating fields." —Creators Syndicate

"This is a truly interesting and even inspirational book." —Rhapsody in Books