Earthrise: My Adventures as an Apollo 14 Astronaut (Hardcover)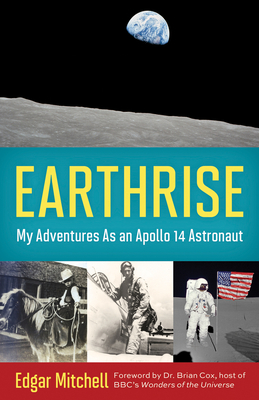 $21.95
This item is not currently available to order.
Description
---
Jefferson Cup Overfloweth Title

Recollections from the sixth man to ever walk on the Moon, for young adult readers.

On February 5, 1971, Edgar Mitchell jumped off the last rungs of a ladder connecting him to NASA's Antares spacecraft and landed with two feet on the Moon. Following the disastrous Apollo 13 mission, Mitchell was one of three astronauts to successfully complete the Apollo 14 journey to the Moon, though it wasn't without its own alarming moments.
In Earthrise, Edgar recalls his spectacular trip to the Moon and the life experiences that got him there, including his early days spent in Roswell, New Mexico, amid nuclear testing and the rumored UFO crash; his first solo airplane flight as a young teen; his time as a navy combat pilot; and becoming a NASA astronaut. With fascinating detail, Edgar describes what it was like to launch into space and land on the Moon, illuminating everything from the practical—eating, sleeping, and going to the bathroom in space—to the mystical, life-changing experience of gazing at Earth from afar.
With illuminating sidebars, transcripts of NASA recordings from the historic Apollo 14 mission, and extensive resources including lists of space-related websites, museums, organizations, films, and books, Earthrise is an invaluable addition to any space, astronomy, or science buff's bookshelf.
About the Author
---
Edgar Mitchell was a pilot in the historic 1971 Apollo 14 mission and the sixth man to ever walk on the Moon. His books include Paradigm Shift, The Space Less Traveled, and The Way of the Explorer. Recipient of the Presidential Medal of Freedom, the NASA Distinguished Service Medal, and three NASA Group Achievement Awards, Mitchell was nominated for the Nobel Peace Prize in 2005 and inducted to the Space Hall of Fame in 1979, the Astronaut Hall of Fame in 1997, and the Leonardo da Vinci Society for the Study of Thinking in 2011. He was the founder of the renowned Institute of Noetic Sciences and the cofounder of the Association of Space Explorers. He died in 2016. Ellen Mahoney is the author of Nellie Bly and Investigative Journalism for Kids. She has worked for Walt Disney Imagineering as a staff writer, contributed many educational pieces for Space Center Houston, and produced radio features for the BBC Science in Action show. She is an affiliate faculty instructor in the department of journalism and technical communication at Metro State University of Denver. She lives in Boulder, Colorado. Dr. Brian Cox is a professor of particle physics and Royal Society University Research Fellow at the University of Manchester. He presents various space and science programs on BBC radio and television, including Wonders of the Universe.
Praise For…
---
"In
Earthrise
, Edgar Mitchell treats us to a firsthand account of his life—a trajectory that just happens to include a visit to the Moon as an Apollo 14 astronaut. We learn how such views of the universe have the power to transform your feelings, your emotions, and your state of mind. Edgar Mitchell was a different person upon returning to Earth, having obtained a cosmic perspective on life that so few of us will ever achieve." —Neil deGrasse Tyson, astrophysicist, American Museum of Natural History
"This fascinating, charming, and gripping book gives us a rare and powerful glimpse into the fantastic life of an Apollo astronaut. Edgar's catching narration—describing his journey, the flight, the fun and exertions of a weightless life in space, the walk on the Moon, and the collection of Moon rocks—makes this book so very absorbing and spellbinding." —Juliane Gross, PhD, research scientist, Department of Earth and Planetary Sciences, The American Museum of Natural History
"Earthrise provides a great picture of the space program and of Ed Mitchell's personal experiences, from growing up to his education to his military flight experience that ultimately led to his walking on the Moon on the Apollo 14 Mission." —Fred Haise, Apollo 13 Lunar Module Pilot
"Like my fellow moonwalker Edgar Mitchell, I had the opportunity to see the Earth from some 240,000 miles away. I believe this experience will give anyone a changed perspective. This book is a gift to all of us, as it is an honest look at a heroic historical figure and his unique way of thinking." —Alan Bean, Apollo 12 Lunar Module Pilot
"Meticulous in its details, the text skillfully translates the highly scientific aspects of Mitchell's work into easily managed sections that will perfectly suit casual readers and researchers alike." —
Booklist
"This fascinating insider account of astronaut training and the transformative experience of traveling to the moon will especially appeal to readers with an interest in astronomy and space travel." —
Kirkus
"Budding scientists will find the book useful, both for reports and for its description, straightforward and unadorned, of a seminal time in American history." —
VOYA
"With each turn of the page, Mitchell's relatable voice speaks to the reader and creates a fully immersive experience—one that is truly out of this world." —
South Florida Sun-Sentinel
"Edgar Mitchell writes in a comfortable friendly way, making this book a natural for a young adult, or advanced child, as well as an easy read for the adult looking to read beyond the cold facts (as told by NASA) of this lunar mission." —SeattlePI.com
"This book is strongly recommended for all children who are interested in space; as Edgar Mitchell was inspired by stories of Roswell and of Buck Rogers when he was young, perhaps a child who reads this very book will someday fly around the Moon and watch the Earth come up." —Universe Today