The Philadelphia Chromosome: A Mutant Gene and the Quest to Cure Cancer at the Genetic Level (Hardcover)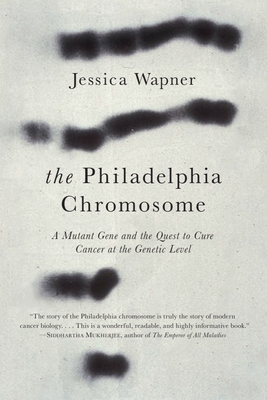 $25.95
This item is not currently available to order.
Description
---
A Wall Street Journal 10 Best Nonfiction Book of the Year

"Among a small cluster of very good recent books on cancer." —The New York Times
Philadelphia, 1959: A scientist scrutinizing a single human cell under a microscope detects a missing piece of DNA. That scientist, David Hungerford, had no way of knowing that he had stumbled upon the starting point of modern cancer research— the Philadelphia chromosome. It would take doctors and researchers around the world more than three decades to unravel the implications of this landmark discovery. In 1990, the Philadelphia chromosome was recognized as the sole cause of a deadly blood cancer, chronic myeloid leukemia, or CML. Cancer research would never be the same.

Science journalist Jessica Wapner reconstructs more than forty years of crucial breakthroughs, clearly explains the science behind them, and pays tribute—with extensive original reporting, including more than thirty-five interviews—to the dozens of researchers, doctors, and patients with a direct role in this inspirational story. Their curiosity and determination would ultimately lead to a lifesaving treatment unlike anything before it.

The Philadelphia Chromosome chronicles the remarkable change of fortune for the more than 70,000 people worldwide who are diagnosed with CML each year. It is a celebration of a rare triumph in the battle against cancer and a blueprint for future research, as doctors and scientists race to uncover and treat the genetic roots of a wide range of cancers.
About the Author
---
Jessica Wapner is a freelance science writer focused mainly on health care and medicine. Her work has appeared in publications including Scientific American, Slate, The New York Times, theatlantic.com, New York, Science, Nature Medicine, the Ecologist, the Scientist, and Psychology Today. Her writing on cancer research and treatment has also appeared in the patient-focused magazines CR and Cure, and she has been a frequent contributor to the industry publication Oncology Business Review. She lives with her family in Beacon, New York.
Author of One Renegade Cell: How Cancer Begins, and The Biology of Cancer, Robert Allan Weinberg is a Daniel K. Ludwig Professor for Cancer Research at MIT and American Cancer Society Research Professor; his research is in the area of oncogenes and the genetic basis of human cancer. Weinberg is also affiliated with the Broad Institute and is a founding member of the Whitehead Institute for Biomedical Research.
Praise For…
---
One of The Wall Street Journal's 10 Best Nonfiction Books of 2013:
"There were numerous strong books about cancer in 2013, but this account of the decades of work to find a drug to fight chronic myelogenous leukemia was the strongest. Jessica Wapner translates the complexities of medical science for the general reader and demonstrates the necessity of collaboration between two traditional enemies, academia and Big Pharma."

"Among a small cluster of very good recent books on cancer."
—The New York Times

"This reporting takes in a huge swath of science and research, a landscape that changes dramatically over the course of her story. Wapner's achievement is to help the reader understand why each development is huge in its time and place—starting with Hungerford peering through his camera at the chromosomes and following scientists through the laboratory stories, through drug development and animal testing, to the triumphant patient treatment when the drug becomes almost routine—a scientific miracle absorbed into the daily lives of a group of patients no longer united by a fatal diagnosis."
—The Washington Post

"In [The Philadelphia Chromosome], Jessica Wapner chronicles the ensuing decades of laborious scientific inquiry and industrial ingenuity that led to the discovery of Gleevec, the first drug designed to attack cancer at the genetic level. Its success in beating CML into remission and making the errant chromosome disappear has helped to revolutionize cancer research, unleashing a hunt for the genetic basis of other cancers and opening the door to comparable targeted treatments."
—The Wall Street Journal

"[A] riveting suspense story . . . Ten years ago, CML was a death sentence. Today, with Gleevec, most of its sufferers lead full and normal lives. Wapner tells the complex story of how this came to be with clarity, eloquence, and balanced insight."
—American Scholar

"An excellent book for those who want to learn more about how medical discoveries are made and those interested in recent medical history, as well as those whose lives are affected by CML."
—Library Journal

"A crucial link between genetics and cancer emerged in a US lab in 1959, as researcher David Hungerford peered down a microscope at an abnormally small chromosome. In 1990, this 'Philadelphia chromosome' was found to cause the swiftly fatal chronic myeloid leukaemia. As science writer Jessica Wapner reveals in this taut, elegant study, a cascade of breakthroughs then led to success with targeted drug Gleevec, a tyrosine kinase inhibitor—and hopes for the cancer-busting potential of rational drug design in general."
—Nature

"[T]he way Wapner repeatedly adds up preceding steps to build to the scientific breakthrough is masterful, making for compulsive, surprisingly emotional reading."
—The Scientist

"A thriller with a dash of history."—Science

"In this meticulously detailed chronicle, science writer Wapner recaps the remarkable development of Gleevec, a cutting-edge drug capable of beating the typically fatal cancer of white blood cells known as chronic myeloid leukemia (CML). . . .Her gracefully written history skillfully combines both the science and humanity of this fascinating search for a cure for CML."
—Publishers Weekly

"Wapner weaves together the basic and applied science with the stories of the dedicated researchers, the broader supporting superstructure of modern medicine and the process of bringing pharmaceuticals to market. . . . An absorbing, complex medical detective story."
—Kirkus Reviews

"Expounding the well-known link between genetics and cancer, this scientific history recounts the initial discovery of a gene mutation that eventually led to enormous breakthroughs in the fight against leukemia."
—The Barnes & Noble Review

"Jessica Wapner reveals how the discovery of a single mutated chromosome led to a trailblazing treatment for leukemia and a variety of other cancers."
—Shelf Awareness

"Splendidly written in the tradition of the legendary medical book, Microbe Hunters, this book proves that medical science is as cool as those forensic shows like CSI."
—Philadelphia Weekly

"I would enthusiastically recommend [this book] to the lay public, people living with cancer and cancer researchers. . . .[T]he story of the Philadelphia chromosome—the scientific creativity and the dedication it celebrates and the medical scientific triumph it represents—is one that deserves to be cherished for eternity."
—Nature Medicine

"[The Philadelphia Chromosome] opens our eyes to a future in which remedies will kill tumors at their root."
—Philadelphia Inquirer

"[C]hronicles the decades-long quest to develop a targeted, or 'rational,' treatment that would attack cancer on the genetic level."
—New York Post

"I enjoyed the book immensely for its enthusiasm, compassion, and depth, while remaining accessible to those not versed in science. It should become a classic."
—Helen Lawce, Journal of the Association of Genetic Technologists

"The story of the Philadelphia chromosome is truly the story of modern cancer biology—from the very earliest description of a chromosomal abnormality in cancer cells to the development of a targeted medicine against a formerly lethal type of leukemia. Jessica Wapner stitches the whole story together with tenacity, diligence (and humor). This is a wonderful, readable, and highly informative book."
—Siddhartha Mukherjee, Pulitzer Prize–winning author of The Emperor of All Maladies

"Jessica Wapner shows us in The Philadelphia Chromosome how the past and the future combine to dramatically change the course of a disease. This beautifully written book is a blueprint for broader healthcare change. A pivotal book."
—David B. Agus, MD, Professor of Medicine and Engineering, University of Southern California, and author of The End of Illness

"Jessica Wapner has done two kinds of hard work gracefully: the hard work of understanding cancer genetics and the hard work of rendering that subject into human narrative, lucid explanation, and metaphor. The Philadelphia Chromosome is not just an urgently useful book. It's also an elegant one, put together like a Swiss watch."
—David Quammen, author of Spillover: Animal Infections and the Next Human Pandemic

"The Philadelphia Chromosome clearly explains how a half-century's worth of research transformed a viciously lethal form of cancer into a chronic, treatable condition. Jessica Wapner's meticulously researched book is both a real-life medical thriller and an engaging narrative about the history of modern cancer research."
—Seth Mnookin, author of The Panic Virus: The True Story Behind the Vaccine-Autism Controversy