Maxine's Critters Get the Vaccine Jitters: A cheerful and encouraging story to soothe kids' covid vaccine fears (Hardcover)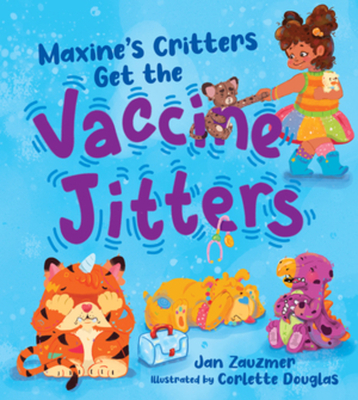 $17.95

Available in our Warehouse: Usually Ships in 3-8 Days
Description
---
A shot can be a little frightening—but it's quick, as quick as lightning!
 
When Maxine tells her pets, "Let's get to the vet!"
Scott does not want a shot.
Jervis is nervous, Franky is cranky, Biffy is iffy, and Cary is wary.
Can Maxine help her critters get over their jitters . . . ?

Perfect for any child afraid of shots or needles, this rhyming book in free meter is a "must-read-aloud"! Spunky Maxine takes charge of her vaccine fears with a playful game of pretend: Her adorable stuffed animals are the patients, and Dad steps in as the "vet."

Just in time for the kids' covid vaccine—and relevant to any pediatric shot—Maxine's Critters Get the Vaccine Jitters will delight children ages 5 and under who face this understandable fear. No need to be grouchy about this little ouchy!
About the Author
---
Jan Zauzmer is a graduate of Princeton University and Stanford Law School. Jan has hatched innovative community programs and published plucky civic opinion pieces. She is the author of Maxine's Critters Get the Vaccine Jitters and her debut book, If You Go with Your Goat to Vote. She lives near Philadelphia, PA.

Corlette Douglas loves creating whimsical, fun, and adventurous images of POC kids and silly animals. She knew from a very young age that all she ever wanted to do was draw, so she dedicated herself to getting better and better and building a unique style that delivers a "blast of colors and fun chaos" on every page. Corlette is a born-and-raised resident of Brooklyn, NY.
Praise For…
---
"Great purpose, engaging colorful pictures, good use of introducing the topic with pretend play involving stuff animals and then bringing home how it applies to the child with her own visit."—Viragos Reading Odyssey