Freedom: How We Lose It and How We Fight Back (Paperback)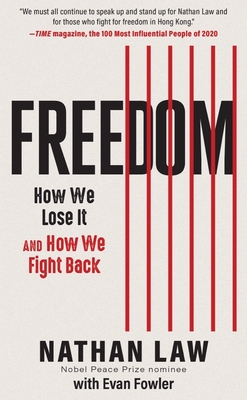 $17.55
This item is not currently available to order.
Description
---
A timely manifesto on freedom from Hong Kong's leading pro-democracy activist Nathan Law, a Nobel Prize nominee

Activist Nathan Law experienced firsthand the speed with which our freedom can be taken away.

When sovereignty over Hong Kong was handed to China in 1997, Hong Kong was guaranteed freedom of the press, expression, and assembly. However, the Chinese Communist Party (CCP) has been chipping away at these rights and, since 2014, restricting free and fair elections. Law writes, "When governments control access to information and are able to define the narrative and dictate what we know, we lose more than our freedoms. We lose the ability to see the world for what it is. We lose our humanity."

In 2016, Law became the youngest-ever elected legislator in Hong Kong on a pro-democracy platform and was subsequently imprisoned for his role as a leader of the Umbrella Movement. He now lives in exile.

An urgent rallying cry, Freedom warns of the dangers of authoritarianism and inspires us to protect democracy and freedom—or face losing them forever.
About the Author
---
Nathan Law is a pro-democracy activist and former legislator from Hong Kong, living in exile in London. A Nobel Peace Prize nominee and one of Time's 100 Most Influential People of 2020, he is the author of the new book Freedom: How We Lose It and How We Fight Back.
 
Evan Fowler is a writer and researcher focusing on Hong Kong and China affairs.
Praise For…
---
2021 Foreword INDIES Gold Winner
Shortlisted for the Parliamentary Book Award Best Political Book

"We must all continue to speak up and stand up for Nathan Law and for those who fight for freedom in Hong Kong."—TIME magazine, "The 100 Most Influential People of 2020"

"The dismantling of Hong Kong has long been one of the most painful disasters in East Asia. . . . 'How did Asia's most liberal, open and cosmopolitan city […] change so fundamentally?' the activist Law asks in this philosophical memoir."—The New York Times

"A heartfelt primer . . . the moderate and thoughtful Law is nothing like the radical agitator of Beijing's imagination."—Financial Times

"Law's most significant personal act of political freedom may be the publication of the book itself. . . . [It] serves as a record of what his generation stood for—and what has happened to the people of Hong Kong—no matter which substitute version of history Beijing promulgates. . . . Freedom is a compelling read and an earnest reminder that those who live in democracies must remain active citizens to safeguard their own freedoms."—Foreign Policy

"In Freedom, Law describes how Beijing was able to subvert Hong Kong's traditional freedoms and how the CCP uses doublespeak to rob democratic values and institutions of their true meaning."—Axios

"With democratic ideals such as press freedom and the rule of law being increasingly eroded in nations including Hungary, Brazil and Turkey – and with election results still being called into question in the US – Law offers a warning and a wake-up call."—New Statesman

"An essential and timely read, warning policymakers, advocates and all people of the erosion to freedom happening before our eyes and equipping us to combat this challenge."—Speaker Nancy Pelosi

"Nathan Law's agonizing account of China's ruthless takeover of Hong Kong provides a terrible insight into Beijing's ambitions—the world needs to read this before other Pacific entities are swallowed up."—Jon Snow, journalist