Mary's Mosaic: The CIA Conspiracy to Murder John F. Kennedy, Mary Pinchot Meyer, and Their Vision for World Peace (Hardcover)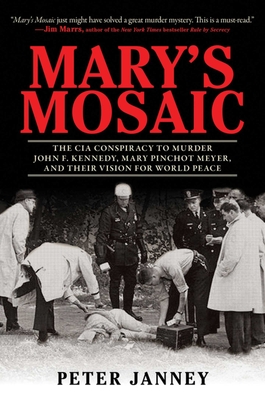 $29.65
This item is not currently available to order.
Description
---
Winner – 2012 Hollywood Book Festival for General Non-Fiction

Honorable Mention – 2012 New England Book Festival for General Non-Fiction

Honorable Mention - 2012 London Book Festival for General Non-Fiction

Who really murdered Mary Pinchot Meyer in the fall of 1964? Why was there a mad rush by CIA counterintelligence chief James Angleton to locate and confiscate her diary? What in that diary was so explosive? Had Mary Meyer finally put together the intricate pieces of a plan to assassinate her lover, President Kennedy, with the trail ultimately leading to the CIA? And was it mere coincidence that Mary was killed less than three weeks after the release of the Warren Commission report?

These are the questions that author Peter Janney finally answers in a way that no one else ever has. In doing so, he may well have solved Washington's most famous unsolved murder. Based on years of painstaking research and interviews, much of it revealed here for the first time, the author traces the key events and influences in the life of Mary Pinchot Meyer, including her first meeting with Jack Kennedy at the Choate School in 1936; her explorations with psychedelic drugs; her relationship with Timothy Leary; and finally how she supported the president as he turned away from the Cold War toward the pursuit of world peace. As we approach the 50th anniversary of President Kennedy's assassination—and Mary Meyer's—Mary's Mosaic adds to our understanding of why both took place. 
About the Author
---
Dick Russell has written for such varied publications as Time, Sports Illustrated, and the Village Voice.His books include The Man Who Knew Too Much, Black Genius, and On the Trail of the JFK Assassins. He is also the coauthor of several New York Times bestsellers, including American Conspiracies, 63 Documents the Government Doesn't Want You to Read, and They Killed Our President.