The Nature Principle: Reconnecting with Life in a Virtual Age (Paperback)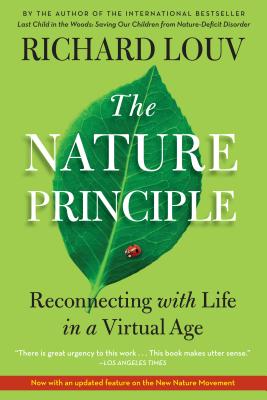 $16.95

Available in our Warehouse: Usually Ships in 3-8 Days
Description
---
For many of us, thinking about the future conjures up images of Cormac McCarthy's The Road: a post-apocalyptic dystopia stripped of nature. Richard Louv, author of the landmark bestseller Last Child in the Woods, urges us to change our vision of the future, suggesting that if we reconceive environmentalism and sustainability, they will evolve into a larger movement that will touch every part of society.

This New Nature Movement taps into the restorative powers of the natural world to boost mental acuity and creativity; promote health and wellness; build smarter and more sustainable businesses, communities, and economies; and ultimately strengthen human bonds. Supported by groundbreaking research, anecdotal evidence, and compelling personal stories, Louv offers renewed optimism while challenging us to rethink the way we live.

Richard Louv's new book, Our Wild Calling, is available now.
About the Author
---
Richard Louv is a journalist and the author of ten books, including Last Child in the Woods: Saving Our Children from Nature-Deficit Disorder, The Nature Principle, and Vitamin N. Translated into twenty languages, his books have helped launch an international movement to connect children, families, and communities to nature. He is cofounder and chair emeritus of the nonprofit Children & Nature Network, which supports a new nature movement. Louv has written for the New York Times, Outside magazine, Orion Magazine, Parents, and many other publications. He appears regularly on national radio and TV, and lectures throughout the world. In 2008, he was awarded the Audubon Medal. Prior recipients have included Rachel Carson, E. O. Wilson, President Jimmy Carter, and Sir David Attenborough.
Praise For…
---
"An exploration of the many happy repercussions of getting in touch with the environment." –
Austin Chronicle
"Louv describes the many ways in which reconnecting to the natural world is fundamental to human well-being…I believe [Louv's] onto something important, and not just for children…So consider this a bit of health care advice: Get outside and dive in - nose first." –
Charlotte Observer
"Louv's vital, inclusive, and inspiriting call to better our lives by celebrating and protecting the living world marks the way to profound personal and cultural transformation."—
Booklist,
starred review
—
Booklist
"Louv takes nature-deficit disorder, introduce in his seminal
Last Child in the Woods
, a step further, to argue that adults need nature, too . . . [This] book may be just what our high-tech, urban culture needs to bring us down to earth."
--Publishers Weekly
—
Austin Chronicle
"[Louv's] onto something important here, something lasting, and by the time you turn the final page, you'll not only understand why you should make or deepen your own connections to nature, you'll know how… His book is a stirring argument for not waiting a moment longer." —
San Diego Union Tribune
—
Chicago Tribune
"Louv's writing style is clear and raises many valid points…Louv's latest isn't much more than age-old wisdom, but it bears repeating in an asphalt-coated world." –
Austin American Statesman
—
Westword
"What would life be like if we were as immersed in nature as we are in electronics? In Richard Louv's world, we'd be happier and healthier. We'd experience fewer cases of depression, anxiety and attention deficit disorder. And we'd build smarter, more sustainable communities." –
Chicago Tribune
—
Milwaukee Journal Sentinel
"[A] forward-looking book for NDD sufferers of all ages.
In The Nature Principle
, Louv takes stock of exactly what we've lost in leaving the natural world behind and how we might get it back." –
Westword
—
Minneapolis Star Tribune
"Parents, Richard Louv doesn't hesitate to tell you that your kids should spend more time outdoors, in nature. And that you should, too." –
Milwaukee Journal Sentinel
—
Kirkus Reviews
"
The Nature Principle
is, in essence, a book for grown-ups who crave -- and need -- nature just as much as kids" –
Minneapolis Star Tribune
—
Robert Michael Pyle
"Louv takes his ideas about the healing power of the outside world and adds layers of how-to action to help make his vision a reality…One thing you'll likely come away with after reading
The Nature Principle
is that, while time is of the essence where protecting and preserving nature is concerned, it's not too late to make a difference." –
Cascadia Weekly
—
Carl Pope, Chairman of The Sierra Club
"A sound argument for the importance of the natural world… Age-old wisdom, but it bears
repeating in an asphalt-coated world."—
KirkusReviews
—
Richard J. Jackson
"In
The Nature Principle
, Rich Louv has given us once again exactly the book we most need, for now and for all time. Our expanding species hasn't a chance to continue living well and happily in a finite world unless we adapt our hungry lives to the rest of nature better than we have. This elegant, original, good-humored, and stunningly thorough work shows us our way home in the world: it is no less than a new Law of Nature, and we had better pay attention."—
Robert Michael Pyle
, author of
The Thunder Tree: Lessons from an Urban Wildland and Mariposa Road
—
ForeWord reviews
"Deprive an individual of everything that nurtured them -- and you're going to have a mess. Deprive a species of everything that nurtured us -- you have 21st century Americans. We grew up in the wild, and when we moved from the African veldt to the European and North American forests, the wild went with us. Now we have set up an elaborate society designed to strip us of the environment that made us -- and Richard Louv is speaking out, inspirationally, on why it doesn't have to be this way." --
Carl Pope, Chairman, The Sierra Club
"We have created environments that make us sad, fat and unhealthy. Richard Louv has made an insightful diagnosis and offers powerful treatment with the medicine we all need, Vitamin N." --
Richard J. Jackson, MD, Chair, Environmental Health Sciences, UCLA School of PublicHealth
"Louv's proposal is for a "renaturing of everyday life," and his lively discussion of how to accomplish this is likely to inspire many readers. His is not a doomsday prognosis but rather an inspired prescription for health, happiness, and a world in which humans and nature are in alignment… His last book spurred a movement to get kids outside because to do otherwise "threatens our health, our spirit, our economy and our future stewardship of the environment." Based on the timeliness and breadth of Luov's research, it seems likely that
The Nature Principal
will build on that momentum and change more than a few lives for the better."—
ForeWord Reviews
"There is a great urgency to this work . . . This book makes utter sense and Louv is gentle with his simple agenda: more green in schools, more access to nature in communities, the importance of giving people the tools and the health they need to create a better world."
—
Los Angeles Times
"
The Nature Principle
tackles the ambitious task of mapping our way to a more connected future . . . Page after page we learn that in working to heal the world through restoration, we end up healing ourselves."
—
Orion
magazine
"
The Nature Principle
manages to both teach and delight. Think of it as a refreshing hike for the mind and soul." —Oprah.com
"Louv's vital, inclusive, and inspiriting call to better our lives by celebrating and protecting the living world marks the way to profound personal and cultural transformation." —
Booklist
, starred review
"This book provides a way back to where we belong, a world full of reverence, joy, and discovery."
—David Suzuki, author of
The Sacred Balance
"Louv's vision is not a rejection of technology or a back-to-the-land trend like the one that came out of the environmental movement 40 years ago. Instead, he wants to tap nature to boost our mental acuity, creativity and health. At its heart, the movement seeks to replace the apocalyptic vision that modern society has created….[ Louv] outlines this new nature movement, and its potential to improve the lives of all people no matter where they live, in his latest book, "The Nature Principle.'" — McClatchy Newspapers