Descent: A Novel (Hardcover)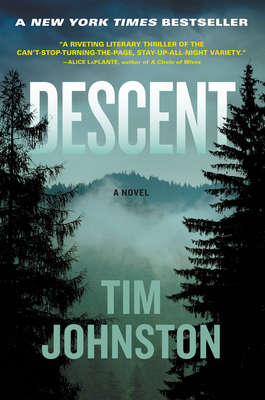 $28.55
This item is not currently available to order.
Staff Reviews
---
This stunning novel reads like Gillian Flynn meets John Irving. I absolutely loved it - my favorite book of 2015 so far.
— Suzanna
January 2015 Indie Next List
---
"Descent is a gripping, utterly engrossing account of a girl's disappearance in the Rocky Mountains. The aftermath of this tragedy is told in alternating voices: the injured brother at the scene of the accident when she left with a stranger to get help; the mother who has been hospitalized and stunned into breathtaking grief; the father who has been unable to leave the small town where the family was vacationing when his daughter disappeared -- and most stunning of all, through the words of the victim herself. A real page-turner with a brilliantly conceived climax!"
— Kelly Estep, Carmichael's Bookstore, Louisville, KY
Description
---
A Breakout NEW YORK TIMES Bestseller

A USA Today Bestseller

An Indie National Bestseller

"Outstanding . . . The days when you had to choose between a great story and a great piece of writing? Gone." —Esquire

"The story unfolds brilliantly, always surprisingly . . . The magic of his prose equals the horror of Johnston's story; each somehow enhances the other . . . Read this astonishing novel." —The Washington Post

"Tim Johnston's high-wire literary thriller . . . will leave you gasping." —Vanity Fair

"A riveting literary thriller of the can't-stop-turning-the-page, stay-up-all-night variety." —Alice LaPlante, author of A Circle of Wives

The Rocky Mountains have cast their spell over the Courtlands, a young family from the plains taking a last summer vacation before their daughter begins college. For eighteen-year-old Caitlin, the mountains loom as the ultimate test of her runner's heart, while her parents hope that so much beauty, so much grandeur, will somehow repair a damaged marriage. But when Caitlin and her younger brother, Sean, go out for an early morning run and only Sean returns, the mountains become as terrifying as they are majestic, as suddenly this family find themselves living the kind of nightmare they've only read about in headlines or seen on TV.

As their world comes undone, the Courtlands are drawn into a vortex of dread and recrimination. Why weren't they more careful? What has happened to their daughter? Is she alive? Will they ever know? Caitlin's disappearance, all the more devastating for its mystery, is the beginning of the family's harrowing journey down increasingly divergent and solitary paths until all that continues to bind them together are the questions they can never bring themselves to ask: At what point does a family stop searching? At what point will a girl stop fighting for her life?

Written with a precision that captures every emotion, every moment of fear, as each member of the family searches for answers, Descent is a perfectly crafted thriller that races like an avalanche toward its heart-pounding conclusion, and heralds the arrival of a master storyteller.
About the Author
---
Tim Johnston, a native of Iowa City, is the author of The Current and the New York Times bestseller Descent, as well as a young adult novel, Never So Green, and the story collection Irish Girl, winner of the Katherine Anne Porter Prize in Short Fiction.
Praise For…
---
"Outstanding . . . The days when you had to choose between a great story and a great piece of writing? Gone." —Esquire

"I've read many variations on this theme, some quite good, but never one as powerful as Tim Johnston's Descent . . . The story unfolds brilliantly, always surprisingly, but the glory of Descent lies not in its plot but in the quality of the writing. The magic of his prose equals the horror of Johnston's story; each somehow enhances the other . . . Read this astonishing novel. It's the best of both worlds." —The Washington Post

"This is much more than your typical thriller. Tim Johnston has written a book that makes Gone Girl seem gimmicky . . . Johnston is an excellent writer. You want to set this one down so you can take a breath, and keep reading--all at the same time." —Alan Cheuse on NPR's All Things Considered

"Johnston's descriptive prose attains a level of visceral brio . . . [An] engulfing thriller-cum-western." —The New York Times Book Review

"[A] twisty thriller about a family grappling with loss." —O: The Oprah Magazine

"Tim Johnston's high-wire literary thriller . . . will leave you gasping." —Vanity Fair

"An original and psychologically deep thriller." —Outside Magazine

"Descent is the best novel I've read in a long time. Unlike most books that fall into the category of Page Turner, this one also falls in the category of Writing So Good You Can't Even Believe It. Johnston has a superhuman gift for watching and listening to the world and rendering, on the page, its beauty and savagery with such detail and power that the story feels almost more like memory than something read. I was so absorbed in the final incredible fifty pages that I missed my flight to La Guardia." —Mary Roach, author of Gulp

"Lyrical and hypnotic, Descent is a pulse-pounding thriller of the first order. But it's also a gorgeously written, thought-provoking, and haunting novel about family, survival, and the power of a single choice.  You'll be in Johnston's unrelenting narrative grip until the final page, and his story will stay with you long after it's done. A truly captivating read." —Lisa Unger, author of In the Blood

"Johnston has a poet's eye for the majestic and forbidding nature of the Rockies, and a sociologist's understanding of how people act under pressure. He also has a knack for creating characters that the reader will come to care about . . . Combining domestic drama with wilderness adventure, Johnston has created a hybrid novel that is as emotionally satisfying as it is viscerally exciting." —Publishers Weekly, starred review

"Tim Johnston's achievement with Descent is to take the most sensationalistic of topics--Child abducted! Every parent's worst nightmare!--and use it to tell a story so beautiful, so grounded, and so graceful. Every moment of this book feels real and truthful; every character feels like an actual human being; every plot twist feels honestly earned. This is a book I'll be recommending to people for years." —Ben Winters, author of World of Trouble: The Last Policeman

"Tim Johnston has crafted a mesmerizing, beautifully written thriller that will engulf you like a snow storm in the Rockies. The grief and confusion of this family undone by loss feels absolutely, heartbreakingly real; the mystery of what has become of Caitlin will keep you up all night, turning pages frantically right through the spellbinding conclusion." —Jennifer McMahon, author of The Winter People

"Descent is nothing short of miraculous. Tim Johnston knows secrets about families--about mothers and daughters, fathers and sons--and knows how to render them on the page with heartbreaking beauty and lyricism. Most amazing of all, Johnston does this within the context of a riveting literary thriller of the can't-stop-turning-the-page, stay-up-all-night variety. An amazing achievement." —Alice LaPlante, author of A Circle of Wives

"Tim Johnston has done a great job not just in creating his characters, but creating the character of the Courtland family. If you enjoy vivid writing, intelligent plots, and gnawing your knuckles, you will love Descent." —Susan Isaacs, author of Goldberg Variations

"Easily one of the best literary thrillers I've ever read. Descent has it all: heart-pounding suspense, masterful plotting, great characters, superb writing, and an ending that will leave you gasping for air. Tim Johnston juggles his characters with ease, subverts the reader's expectations at every turn, and delivers the kind of suspense that will keep you awake all night. But what impresses me the most is his rare and unswerving compassion for his otherwise forsaken characters and his preternatural ability to inhabit their hearts and minds." —Jonathan Evison, author of The Revised Fundamentals of Caregiving
Coverage from NPR