The Time Fetch (Paperback)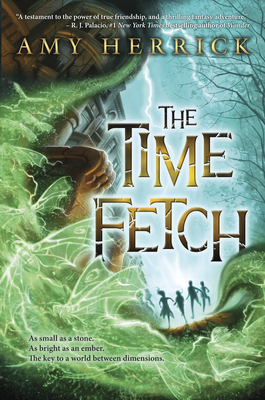 Description
---
"The Time Fetch is a remarkable testament to the power of true friendship and a thrilling fantasy adventure about the unseen world all around us." --R. J. Palacio, #1 New York Times bestselling author ofWonder

Edward picks up what he thinks is a rock. He doesn't know it is a sleeping Time Fetch--and touching it will release its foragers too soon and alter the entire fabric of time and space. Soon the bell rings to end class just as it has begun. Buses race down streets, too far behind schedule to stop for passengers. Buildings and sidewalks begin to disappear as the whole fabric of the universe starts to unravel. To try to stop the foragers, Edward must depend on the help of his classmates Feenix, Danton, and Brigit--whether he likes it or not. They all have touched the Fetch, and it has drawn them together in a strange and thrilling adventure. The boundaries between worlds and dimensions are blurred, and places and creatures on the other side are much like the ones they've always known--but slightly twisted, a little darker, and much more dangerous.
About the Author
---
Amy Herrick grew up in Queens, New York, and attended SUNY Binghamton and the University of Iowa. She lives in Brooklyn, where she has raised two sons, taught pre-K and grade school, written books, and kept company with her husband and numerous pets. A retired teacher, she loves traveling, learning Spanish, and above all reducing her carbon footprint.
 
Praise For…
---
"[A] transcendent middle-grade debut. An accessible, age-appropriate introduction to deeper themes of both the intellect and the spirit . . . The plot is suspenseful, moves at a rapid pace, and is heavily sprinkled with fascinating characters . . . This book screams for a sequel." --School Library Journal, starred review

"Charming and clever . . . All readers will enjoy this novel as an adventure story featuring a team of unlikely friends with an array of talents--each essential to their mission to restore the Fetch to its proper place." --Shelf Awareness, starred review

"Herrick weaves a fast-paced fantasy with great twists and turns that will grab readers from the start." --Booklist

"Take one part quantum physics, one part metaphysical nihilism, one part pagan mysticism, add a handful of truly fantastic fourteen-year-olds, and BAM! You have yourself an amazingly fun book." --Shelver's Anonymous
"[A] transcendent middle-grade debut. An accessible, age-appropriate introduction to deeper themes of both the intellect and the spirit . . . The plot is suspenseful, moves at a rapid pace, and is heavily sprinkled with fascinating characters . . . This book screams for a sequel." --School Library Journal, starred review

"Charming and clever . . . All readers will enjoy this novel as an adventure story featuring a team of unlikely friends with an array of talents--each essential to their mission to restore the Fetch to its proper place." --Shelf Awareness, starred review

"Herrick weaves a fast-paced fantasy with great twists and turns that will grab readers from the start." --Booklist

"Take one part quantum physics, one part metaphysical nihilism, one part pagan mysticism, add a handful of truly fantastic fourteen-year-olds, and BAM! You have yourself an amazingly fun book." --Shelver's Anonymous
—
Reviews