A Possibility of Whales (Hardcover)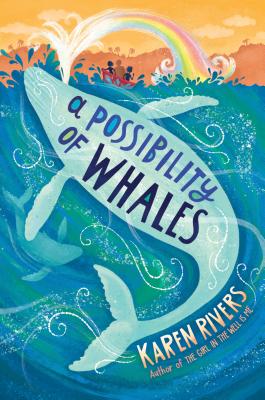 $18.65
This item is not currently available to order.
Description
---
The story of a girl who—thanks to her friends, her famous dad, and a chance encounter with a whale—learns the true meaning of family.
 
Twelve-year-old Natalia Rose Baleine Gallagher loves possibilities: the possibility that she'll see whales on the beach near her new home, that the boy she just met will be her new best friend, that the photographers chasing her actor father won't force Nat and her dad to move again. Most of all, Nat dreams of the possibility that her faraway mother misses and loves Nat—and is waiting for Nat to find her.

The thing is, Nat doesn't even know who her mother is. She left Nat as a baby, and Nat's dad refuses to talk about it. Nat knows she shouldn't need a mom, but she still feels like something is missing.

In this heartfelt story about family, friendship, and growing up, Nat's questions lead her on a journey of self-discovery that will change her life forever.

 
About the Author
---
Karen Rivers's books have been nominated for a wide range of literary awards and have been published in multiple languages. When she's not writing, reading, or visiting schools, she can usu­ally be found hiking in the forest that flourishes behind her tiny old house in Victoria, British Columbia, where she lives with her two kids, two dogs, and two birds. Find her online at karenrivers.com and on Twitter: @karenrivers.
 
Praise For…
---
"A remarkable novel . . . Nat's witty and vulnerable voice drives the novel, from her wry observations about contemporary celebrity culture to the thoughtful collection of untranslatable words that help define her world. The chapters that center Harry's perspective are just as strong, emphasizing his desire to be seen and understood, not as an abstract exemplar of a transgender child but as an individual. The novel avoids offering simple solutions for questions of identity and adolescence, instead reveling in life's nuance and complexity. Perfect for fans of Raymie Nightingale and Counting by Sevens, Rivers' latest work brings an improbable combination of elements together in an unforgettable story that is quirky and wise."
—School Library Journal
 
"Charming and sweet as it explores personal identity, life changes, love, and, of course, whales . . . Nat's story of self-discovery is sure to inspire anyone searching for their place in the world."
—Foreword Reviews
 
"A coming-of-age story that's both relatable and moving  . . . [Rivers] strikes the perfect tone of innocence, confusion and a touch of obstinance with Natalia, as she wades into the wild world of growing up . . . a bright, optimistic book that touches on growing up, celebrity visibility, transgender topics and more — refreshingly, and without being too weighed down with any insurmountably sombre notes."
—Vancouver Sun