The Kurosagi Corpse Delivery Service: Book One Omnibus (Kurosagi Corpse Delivery Service Omnibus #1) (Paperback)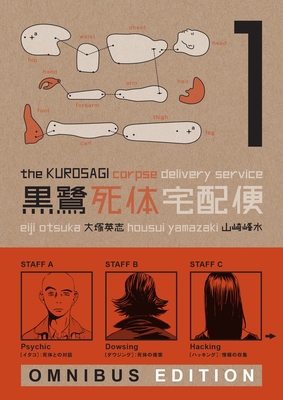 $24.99

Available in our Warehouse: Usually Ships in 3-8 Days
Other Books in Series
This is book number 1 in the Kurosagi Corpse Delivery Service Omnibus series.
Description
---
Five students at a Buddhist college in Japan realize the job market is tough these days...among the living, that is! But their unique spiritual and scientific talents might help them get work from the dead, for they can contact the spirits of corpses and speak with them. And if a body is found hanging from a tree or lying in an alley, it's probably got a story to tell! The five form The Kurosagi Corpse Delivery Service, specializing in carrying out the last wishes of their dead clients, so their souls can move on. But the Kurosagi gang are magnets for weirdness--not just corpses--and every case gets them involved in disturbing personal obsessions, bizarre modern Tokyo fads, and strange rituals of old Japan...and often all at once!
About the Author
---
Eiji Otsuka is a social critic and novelist. He graduated from college with a degree in anthropology, women's folklore, human sacrifice and post-war manga. In addition to his work with manga he is a critic, essayist, and author of several successful non-fiction books on Japanese popular and otaku sub-cultures. He writes the Multiple Personality Detective Psycho and The Kurosagi Corpse Delivery Service manga series. One of his first animation script works was Mahō no Rouge Lipstick, an adult lolicon OVA. Ōtsuka was the editor for the bishōjo lolicon manga series Petit Apple Pie. In the 80s, Otsuka was editor-in-chief of Manga Burikko, a leading women's manga magazine where he pioneered research on otaku sub-cultures in modern Japan. He has published a host of books and articles about the manga industry. The author lives in Tokyo, Japan.