The Kurosagi Corpse Delivery Service: Book Two Omnibus (Kurosagi Corpse Delivery Service Omnibus #2) (Paperback)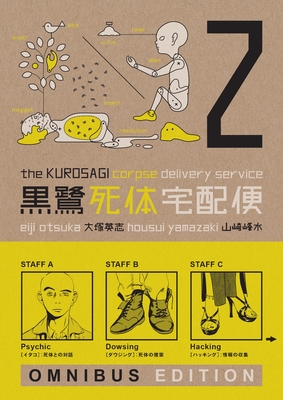 $24.99

Available in our Warehouse: Usually Ships in 3-8 Days
Other Books in Series
This is book number 2 in the Kurosagi Corpse Delivery Service Omnibus series.
Description
---
It's weird enough work, just trying everyday to turn corpses into cash when they're connected to mysterious UFO crashes, modern-day mummies, and stiffs turned to soap. But the secrets of the Kurosagi's crew past continue to haunt them as well, as they meet the exorcist Reiji Akira from Mail, who photograps the familiar spirit haunting Karatsu, and a flashback story takes us to early 20th-century Japan to meet the ancestors (?) of our cast, as they hunt the ripper stalking the streets of Meiji-era Tokyo! And now there's sinister competition in the future for them in the body trade, as they encounter a rival firm, the Shirosagi Corpse Cleaning Service...

This is the second volume in the value-priced Kurosagi Corpse Delivery Service Omnibus series from Dark Horse Manga!
About the Author
---
Eiji Otsuka is a social critic and novelist. He graduated from college with a degree in anthropology, women's folklore, human sacrifice and post-war manga. In addition to his work with manga he is a critic, essayist, and author of several successful non-fiction books on Japanese popular and otaku sub-cultures. He writes the Multiple Personality Detective Psycho and The Kurosagi Corpse Delivery Service manga series. One of his first animation script works was Mahō no Rouge Lipstick, an adult lolicon OVA. Ōtsuka was the editor for the bishōjo lolicon manga series Petit Apple Pie. In the 80s, Otsuka was editor-in-chief of Manga Burikko, a leading women's manga magazine where he pioneered research on otaku sub-cultures in modern Japan. He has published a host of books and articles about the manga industry. The author lives in Tokyo, Japan.