The Ultimate Cartoon Book of Book Cartoons (Hardcover)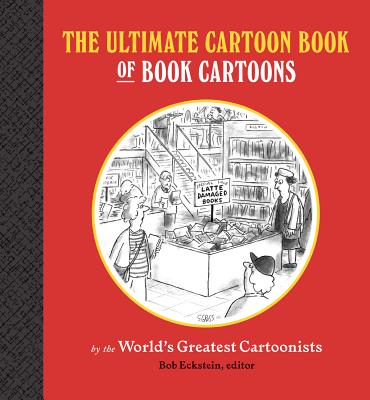 $21.95
This item is not currently available to order.
Description
---
This exuberant collection of cartoons is an enthusiastic love letter to books and bookstores. The cartoons celebrate and critique the literary world through the work of thirty-three of the masters of cartoon art, including Sam Gross, Roz Chast, Arnie Levin, Peter Steiner, Mick Stevens, Nick Downes, Liza Donnelly, Bob Mankoff, and Michael Maslin. Many of the cartoons have been published in the New Yorker, while others are published here for the first time.
About the Author
---
Bob Eckstein is an illustrator, cartoonist, and writer whose work frequently appears in the New Yorker, the New York Times, and MAD magazine. He is author of Footnotes from the World's Greatest Bookstores, and his work has been exhibited in the Cartoon Art Museum of San Francisco, the Cartoon Museum of London, and the Smithsonian Institute.
Praise For…
---
"The world of books is rich with subjects for humor: self-published novels, meet-the-author events, self-help books, memoirs, book clubs. Thirty-three of the best cartoonists have their way with these and other literary-related topics in the new "The Ultimate Cartoon Book of Book Cartoons."...So, if you feel like taking a break from the book you're currently reading, pick up this volume and partake in a time-honored tradition - looking at the pictures."
- Columbus Dispatch

"If you love books...then you'll get a kick out of this book....I love the various tropes covered in this book: rich authors and poor authors, popular trends in book publishing, people who love books, people who are books."
- GeekDad

"The Ultimate Cartoon Book of Book Cartoons edited by Bob Eckstein delivers on the title's promise by collecting cartoons about books, bookstores, reading, and writing that academics and literature lovers will adore. The deliciously witty single-panel cartoons are the work of 33 artists, most of them well known to readers of The New Yorker, where many of these cartoons were originally published."
- The Advocate

"[I]t is already hands down the best cartoon collection about books. Every selection is a winner....Even the minutiae are handled refreshingly well. The book's index, for example, includes page numbers as well as brief capsule biographies of the artists. I don't think I've ever seen this done better anywhere."
- Attempted Bloggery