The New Farm: Contemporary Rural Architecture (Hardcover)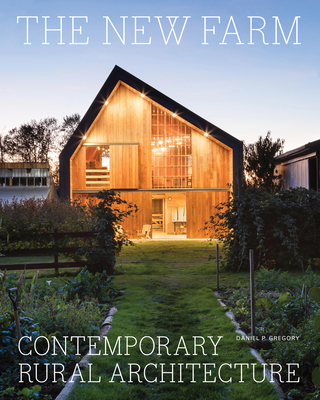 $45.00
This item is not currently available to order.
Description
---
Recent generations of farmers have reinvented the family farm and its traditions, embracing organic practices and sustainability and, along with them, a bold new use of modern architecture. The New Farm profiles sixteen contemporary farms around the globe, accompanied by plans and colorful images that highlight the connections among family, food, design, terrain, and heritage.
About the Author
---
Daniel P. Gregory is a longtime magazine and website editor and author of Cliff May and the Modern Ranch House. He graduated from Yale, received his PhD in architectural history from UC Berkeley, and lives in the Bay Area.
Praise For…
---
"Although Daniel P. Gregory's The New Farm was slated for publication long before the COVID-19 pandemic struck, I have encountered no book that better evokes the longings so many of us have felt under lockdown: for fresh air, real solitude, and uncluttered and intentional spaces to inhabit....The book's greatest strength is its ability to invite the reader into a place, quickly sketch the landscape and buildings, and anchor people, animals, and agricultural processes within that topography. In its most effective case studies, the relationship between architecture and activity comes to life through designer Benjamin English's deft layout."
- Journal of the Society of Architectural Historians,


"For those who haven't already decamped for a pastoral Eden in the pandemic, let this book be your escape. Gregory visits 16 contemporary farms around the globe, revealing modern farming practices and the bold new architectural forms that support them, from Kentucky to Tasmania. Architects featured include Tom Kundig, William Turnbull, Edward Larabee Barnes, and others."
- AIA New York

This collection, extending from California to Kentucky and as far as Tasmania, of contemporary farm buildings shows how barns, mills, and farmhouses are part of a strong vernacular and modernist tradition. The 16 examples selected by Daniel Gregory, a former editor at Sunset magazine, often pay homage to such Bay Area modernists in the postwar period as William Wurster.
- Architectural Record

"In The New Farm: Contemporary Rural Architecture, author Daniel P. Gregory explores how firms have taken a bolder approach to agricultural design with striking exteriors, grand interiors, and inventive materials. Gregory showcases 16 farms around the world, from a cathedral-like dairy farm in New York state to sleek stables in New South Wales, Australia. Each of the family businesses offers a new take on farming traditions with an eye to sustainability and beautiful design."
- Architectural Digest

"The New Farm, most often family run, embraces old farm methods and values-simplicity and sustainable agricultural practices-as well as innovative architecture that often riffs on the traditional farmhouse and barn....Surely the designers of these New Farms will join the lineage of celebrated agricultural architects from throughout the centuries."
- Upstate House

"Here, without our realizing it, may be just what we've been needing: a collection of designs that are simple, economical, practical, and unselfconsciously handsome."
- Interior Design

"[The New Farm] is an eclectic mix of projects that clearly embraces the trend away from agribusiness and toward smaller operations that are more firmly rooted in the land they farm upon."
- A Daily Dose of Architecture Books