Crashed (A Junior Bender Mystery #1) (Paperback)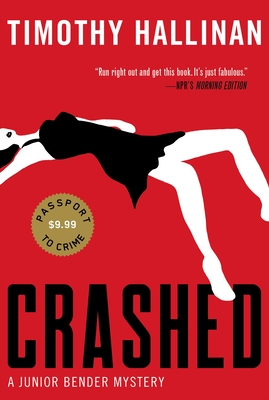 $9.99

Available in our Warehouse: Usually Ships in 3-8 Days
Other Books in Series
This is book number 1 in the A Junior Bender Mystery series.
Description
---
Quick-talking burglar Junior Bender gets blackmailed into starting a new career as a private investigator for crooks in this hilarious Hollywood mystery
 
Junior Bender, a burglar with a magic touch, is being blackmailed into taking on a new freelance job. One of LA's biggest crime bosses is producing a porn movie that someone keeps sabotaging; Junior's job is to figure out who's responsible and keep the movie on track.

The trouble is, he's not sure he can go through with the job, blackmail or no blackmail. The actress lined up to star in the film, Thistle Downing, is an ex-child star who now lives alone in a drug-induced stupor, destitute and uninsurable. This movie would be scandalous fodder for tabloids around the country. Junior knows what he should do—get Thistle out and find her some help—but doing the right thing will land him on the wrong side of some scary people.
About the Author
---
Timothy Hallinan is the Edgar- and Macavity-nominated author of thirteen widely praised books, including The Fear Artist, Crashed, Little Elvises, and The Fame Thief. After years of working in Hollywood, television, and the music industry, he now writes fulltime. He divides his time between California and Thailand.
Praise For…
---
Praise for Crashed

"If you're looking for a mystery with a fresh new hero then you'll want to run right out and get this book. It's just fabulous. If you have a plane to take, then this is the book to grab."
—NPR's Morning Edition

"Loved loved loved Crashed, Tim Hallinan's first Junior Bender mystery. Great narrative voice, complex plot, 3-D characters. Hallinan's deft comic tone and colorful characters  have earned him comparisons to Donald Westlake and Carl Hiassen. Check it out now." 
—Nancy Pearl

"If Carl Hiaasen and Donald Westlake had a literary love child, he would be Timothy Hallinan. The Edgar nominee's laugh-out-loud new crime series featuring Hollywood burglar-turned-private eye Junior Bender has breakout written all over it... A must-read."
—Julia Spencer-Fleming, New York Times bestselling author of One Was a Soldier

"Junior Bender is today's Los Angeles as Raymond Chandler might have written it. Tim [Hallinan] is a master at tossing out the kind of hard-boiled lines that I wish I thought of first."
—Bruce DeSilva, Macavity & Edgar Award-winning author of Rogue Island

"Timothy Hallinan's affable antihero, an accomplished thief but inept sleuth named Junior Bender, makes a terrific first impression in Crashed.... Bender's quick wit and smart mouth make him a boon companion on this oddball adventure."
—New York Times

"A fresh turn on Raymond Chandler... In Crashed, Hallinan's fabulously convoluted, wise-guy detective potboiler featuring Bender, the California author's voice — intelligent, sarcastic, profane but never coarse, unfailingly honest — is like a fast ride over a potholed road in a vintage Cadillac."
—San Antonio Express-News

"This is Hallinan at the top of his game. It's laugh-out-loud funny without ever losing any of its mystery. It's a whole new style and I love it. Junior Bender—a crook with a heart of gold—is one of Hallinan's most appealing heroes, rich with invention, and brimming with classic wit. I can't recommend it highly enough."
—Shadoe Stevens, Late Late Show with Craig Ferguson

"The story is well designed and well told, and the dialogue sparkles. In a genre perhaps slightly overstuffed with crook-heroes, the book is like a breath of fresh air."
—Booklist

"This is one of those books you long for, wait for, and find once or twice a year"
—Beth Kanell, proprietor of Kingdom Books, Vermont

"This fast-paced first in a series is great fun."
—Stop You're Killing Me (blog)

"Timothy Hallinan does everything a writer should do whose goal is to keep a reader entertained from the first sentence to the last."
—Tzer Island (blog)

"Hallinan builds a believable plot, filled with both humor and pathos."
—Reviewing the Evidence (blog)

"The writing is intelligent, relaxed, and fun to read. Crashed is a pleasurable outing, without the personal risk, to the criminal underbelly of Los Angeles, where moral ambiguity fills the air."
—Read Me Deadly (blog)

"This detective potboiler with its oddball characters will keep you chuckling."
—The Martha's Vineyard Times

"If you're in the mood for a mystery that's just plain fun, this is the one for you... Timothy Hallinan knows how to write a smart aleck main character who has his own set of morals and a heart of gold."
—Kittling Books (blog)

Praise for Junior Bender

"Timothy Hallinan's The Fame Thief has everything I've come to expect in a Hallinan novel: indelible, complex characters, fantastic plot, and moments of hold-your-breath suspense."
—Charlaine Harris, author of the New York Times bestselling Sookie Stackhouse series

"Could not stop laughing.  Tim Hallinan is sharp as a blade, has a wicked eye for human nature and keeps the reader guessing and rooting for Junior Bender all the way."
—Helen Simonson, New York Times bestselling author of Major Pettigrew's Last Stand

"Junior Bender is bound to be the topic of conversation amongst book lovers and crime fiction fans for a long, long time."
—Robert Carraher, Seattle Post-Intelligencer 

"Hugely,splendidly entertaining... Full of delightful characters, and dialogue that provides at least one good laugh on every page, the book is so hard to put down you'll swear it's been glued to your hands."
—Booklist, STARRED Review (Little Elvises)