Herbie's Game (A Junior Bender Mystery #4) (Paperback)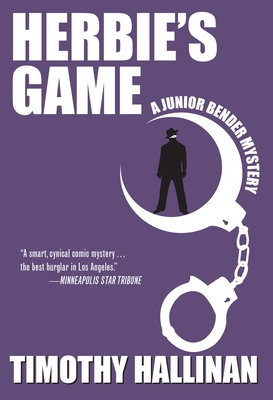 $16.95
This item is not currently available to order.
Other Books in Series
This is book number 4 in the A Junior Bender Mystery series.
Description
---
Junior Bender, the clown prince of crime fiction, returns in his most hardboiled adventure yet—a tale that will take Junior Bender deep into a murderous conspiracy in present day Los Angeles and  uncover an increasingly confusing legacy of his burglar-mentor, Herbie Mott, who until very recently was always one-step-ahead of just about everybody.

It's everyday business when Wattles, the San Fernando Valley's top "executive crook," sets up a hit. He establishes a chain of criminals to pass along the instructions and the money, ensuring that the hitter doesn't know who hired him. But one day Wattles finds his office safe open and a single item missing: the piece of paper on which he has written the names of the crooks in the chain. When people associated with the chain begin to pop up dead, the only person Wattles can approach to solve his problem is Junior Bender, professional burglar and begrudging private eye for crooks.

But Junior already knows exactly who took Wattles's list: the signature is too obvious. It was Herbie Mott, Junior's burglar mentor—and when Junior seeks him out to discuss the missing list, he finds Herbie very unpleasantly murdered. Junior follows the links in the chain back toward the killer, and as he does, he learns disturbing secrets from Herbie's hidden past.
About the Author
---
Timothy Hallinan is the Lefty Award-winning and Edgar-, Shamus-, and Macavity-nominated author of sixteen widely praised books, including The Fear Artist, Crashed, Little Elvises, and The Fame Thief. After years of working in Hollywood, television, and the music industry, he now writes full-time. He divides his time between California and Thailand.
Praise For…
---
Praise for Herbie's Game

Finalist for the Nero Award
Winner of the 2015 Lefty Award
A Philadelphia Inquirer Best Book of 2014
August 2014 Indie Next List

"Junior Bender is on the case, wisecracking as always."
—Los Angeles Times

"[A] smart, cynical comic mystery . . . the best burglar in Los Angeles."
—Minneapolis Star Tribune

"If mysteries, thrillers, or just plain dark reads are your thing, then you'll love this summer's crop of twisty-turny heart-pounders . . . Junior Bender, the criminal who does detective work for other criminals, returns for a fourth hard-boiled mystery."
—Entertainment Weekly

"Donald E. Westlake, the casually brilliant master of the comic caper, may be pushing up daisies, but his spirit clearly lives on in Timothy Hallinan. Herbie's Game is swift, sure-footed and awfully funny."
—The Seattle Times

"Crackles with cleverness."
—The Philadelphia Inquirer

"With complex characters, spicy dialogue, clever plot devices and a liberal dose of humor—as is always the case with Hallinan—Herbie's Game is a fine read."
—BookPage

"Amiable burglar Junior Bender is forced to chase down a stolen list of names before everyone on it ends up dead. First to fall is Junior's mentor and surrogate father, Herbie, who stole the list in the first place. This delightful mystery poses the question: Do we ever really know the people we love, and do we need to know everything in order to love them?"
—Shelf Awareness

"The clown prince of crime fiction."
—Suspense Magazine

"The most satisfying installment of the series to date . . . Bender's Los Angeles is laid out in full, splendid view, warts and all."
—Bookreporter.com

"The ultimate summer beach reading—as funny as the best of Carl Hiaasen, but with the kinds of puzzling mysteries and plot surprises of the best of Agatha Christie."
—The Brooklyn Daily

"A perfect read for a nice afternoon at the beach."
—Gulf News Today

"Excellent . . . Chandler's Los Angeles gets a facelift to bring it into modern times, but the humor and setting are the same. And like Chandler, Hallinan is razor-sharp on the page."
—Crimespree Magazine

"A laconic antihero to admire."
—Publishers Weekly

"A whirligig of a caper . . . Junior, drop by anytime. The valuables will be in plain sight." 
—Bill Ott, Booklist

"As usual, Hallinan devotes such loving attention to a host of minor characters, all framed by Junior's deadpan narrative."
—Kirkus Reviews

"If I could take only one Hallinan series to a desert island, it's the Junior Bender series that I'd pack."
—Kingdom Books

"Hallinan has more "heart" than any other thriller/mystery writer I know . . . It reminds me of the Don Winslow mystery series about surfing. I mean, really, can crime be more fun than hanging out with these guys?"
—Bowed Bookshelf

Praise for the Junior Bender series
 
"Everything I've come to expect in a Hallinan novel: indelible, complex characters; fantastic plot; and moments of hold-your-breath suspense."
—Charlaine Harris
 
"Bender's quick wit and smart mouth make him a boon companion on this oddball adventure."
—The New York Times Book Review

"It's not easy to come up with a new premise for a crime story, but Timothy Hallinan has managed it."
—A.V. Club
 
"Could not stop laughing. Tim Hallinan is sharp as a blade, has a wicked eye for human nature and keeps the reader guessing and rooting for Junior Bender all the way."
—Helen Simonson
 
"Great narrative voice, complex plot, 3-D characters. Hallinan's deft comic tone and colorful characters have earned him comparisons to Donald Westlake and Carl Hiaasen. Check it out now."
—Nancy Pearl
 
"If Carl Hiaasen and Donald Westlake had a literary love child, he would be Timothy Hallinan."
—Julia Spencer-Fleming
 
"A modern-day successor to Raymond Chandler."
—Los Angeles Daily News
 
"Dangerously outrageous."
—Associated Press