Diary of a Dead Man on Leave (Hardcover)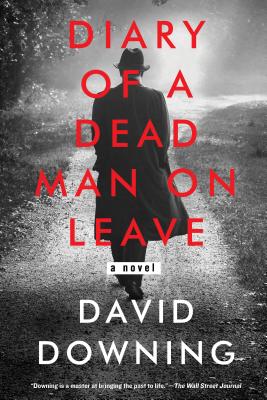 $30.75
Available in our Warehouse: Usually Ships in 3-8 Days
Description
---
From bestselling author David Downing, master of historical espionage, comes a heart-wrenching depiction of Germany in the days leading up to World War II and the difficult choices of one man of conviction.

In April 1938, a man calling himself Josef Hofmann arrives at a boarding house in Hamm, Germany, and lets a room from the widow who owns it. Fifty years later, Walter Gersdorff, the widow's son, who was eleven years old in the spring of 1938, discovers the carefully hidden diary the boarder had kept during his stay, even though he never should have written any of its contents down.
 
What Walter finds is a chronicle of one the most tumultuous years in German history, narrated by a secret agent on a deadly mission. Josef Hofmann was not the returned Argentinian immigrant he'd said he was—he was a communist spy under Moscow's command trying to reconnect with remaining members of Germany's suppressed communist party. Hofmann's bosses believe the common workers are the only way to stop the German war machine from within. Posing as a railroad man, Hofmann sets out on his game of "Russian roulette," approaching Hamm's ex-party members one at a time and delicately feeling out their allegiances.
 
He always knew his mission would most likely end in his death, and he was satisfied to make that sacrifice for the revolution if it could help stop Hitler and his abominable ideology. But as he grows close to the Gersdorffs, accidentally stepping into the role of the father Walter never had, Hofmann begins to wish for another kind of hope in his life.
About the Author
---
David Downing grew up in suburban London. He is the author of the Jack McColl novels, Jack of Spies, One Man's Flag, Lenin's Roller Coaster, and The Dark Clouds Shining; the thriller The Red Eagles; and six books in the John Russell espionage series, set in WWII Berlin. He lives with his wife, an American acupuncturist, in Guildford, England.
Praise For…
---
A Sunday Times Crime Club Starred Pick

Praise for Diary of a Dead Man on Leave

"Downing's thriller commands our attention until the very last page." 
—The Wall Street Journal  

"Compelling . . . Like Downing's deeply researched and convincing Second World War series featuring John Russell, the British journalist-spy, [Diary of a Dead Man on Leave] deals with the war in thrilling fashion." 
—Toronto Star  

"This powerful, fascinating and touching story not only details the failures of the past, but is also a warning in an age of increasing extremist nationalism, that if people don't want history to repeat itself, they need to pay greater attention to the actions of their governments. It's a brilliant, biting read with a message for those who care to see."
—Crime Review (UK)

"This is a timely, thought provoking novel, historically accurate in all respects. It is one that should not be missed." 
—Deadly Pleasures Magazine 

"Tingles with suspense."
—Bayou Catholic Monthly

"The voice [Hofmann's] that emerges is one of a man struggling with the enduring issue that surfaces and resurfaces throughout espionage fiction, from Graham Greene to John le Carré and Alan Furst: loyalty to country versus loyalty to the individual . . . This is a quiet, largely introspective spy novel, very different in mood from Downing's adventure-fueled Jack McColl novels, but it packs an equal if not greater emotional wallop." 
—Booklist, Starred Review   

"Downing (the John Russell series) has never been better than in this moving and elegiac thriller framed as a diary written by a German calling himself Josef Hofmann . . . Le Carré fans will be pleased."
—Publishers Weekly, Starred Review

Praise for David Downing

"[Downing] is a master at bringing the past to life through the careful and often loving observation of even minor players and through the artful deployment of specific detail."
—The Wall Street Journal
 
"Downing distinguishes himself by eschewing the easy ways out. He doesn't shy away from portraying the cold brutality of the Third Reich, and his characters are far from stereotypes—they're flawed, confused and real."
—NPR
 
"Downing is brilliant at weaving history and fiction . . . Equally clever and unexpected."
—Toronto Globe and Mail
We appreciate your continued support!
If you would like to make a donation to help us through CLICK HERE.