Spook Street (Slough House #4) (Paperback)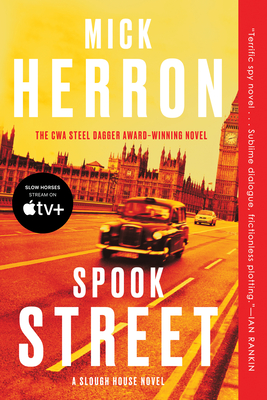 $16.95
Available in our Warehouse: Usually Ships in 3-8 Days
Other Books in Series
This is book number 4 in the Slough House series.
Description
---
What happens when an old spook loses his mind? Does the Service have a retirement home for those who know too many secrets but don't remember they're secret? Or does someone take care of the senile spy for good?

These are the paranoid concerns of David Cartwright, a Cold War–era operative and one-time head of MI5 who is sliding into dementia, and questions his grandson, River, must figure out answers to now that the spy who raised him has started to forget to wear pants. But River, himself an agent at Slough House, MI5's outpost for disgraced spies, has other things to worry about. A bomb has detonated in the middle of a busy shopping center and killed forty innocent civilians. The "slow horses" of Slough House must figure out who is behind this act of terror before the situation escalates.
About the Author
---
Mick Herron is a British novelist and short story writer who was born in Newcastle and studied English at Oxford. He is the author of six books in the Slough House series (Slow Horses, Dead Lions, Real Tigers, Spook Street, London Rules, and the novella The List) and four Oxford mysteries (Down Cemetery Road, The Last Voice You Hear, Why We Die, and Smoke and Whispers), as well as the standalone novels Reconstruction, Nobody Walks and This Is What Happened. His work has won the CWA Gold Dagger for Best Crime Novel, the Steel Dagger for Best Thriller, and the Ellery Queen Readers Award, and been nominated for the Macavity, Barry, Shamus, and Theakstons Novel of the Year Awards. He currently lives in Oxford and writes full-time.
Praise For…
---
Praise for Spook Street

Winner of the 2017 CWA Ian Fleming Steel Dagger for Best Thriller
Shortlisted for the CWA Gold Dagger for Best Crime Novel 
An Irish Times Best Book of 2017
The Guardian Best Books of 2017
A Seattle Times Notable Book of 2017
​A Boston Globe Best Book of 2017 
Nominated for the 2018 Barry Award for Best Thriller
Shortlisted for the British Book Award for Crime & Thriller Book of the Year
Longlisted for the Theakston Old Peculier Crime Novel of the Year Award
Winner of the 2018 CrimeFest Last Laugh Award
​
"Terrific spy novel . . . Sublime dialogue, frictionless plotting."
—Ian Rankin

"Irony and black humor abound."
—Newsday

"Spook Street is thoroughly gripping espionage, focused on intelligent plotting over action for its own sake—think le Carré, but with a heartier dash of dry humor."
—The Seattle Times

"Stylistically, you can draw comparisons with the work of Raymond Chandler, though Herron keeps a tighter grasp on his narrative than Chandler ever did . . . Herron is a master of timing, word by word, sentence by sentence. His language creates its own world, with streaks of satire and loss that prevent it from becoming too comfortable."
—The Spectator

"[Herron] is superb at evoking the le Carré-esque air of ennui, cynicism and self-loathing which permeates an intelligence service on its uppers, but which remains—the alternative being too awful to contemplate—duty bound to keep calm and carry on . . . Herron also leavens the mood with flashes of mordant humour, while the hilariously repellent Jackson Lamb—the anti-Smiley—is a constant source of politically incorrect one-liners."
—The Irish Times

"It's not often a reviewer can say, 'You've never read anything quite like this' but it's a safe encomium to use in the case of Mick Herron. The author's idiosyncratic writing is unique in his genre: the spycraft of le Carré refracted through the blackly comic vision of Joseph Heller's Catch-22."
—Financial Times

"Sheer fun. Herron is spy fiction's great humorist, mixing absurd situations with sparklingly funny dialogue and elegant, witty prose."
—The Times (UK)

"The lavishly loathsome Jackson Lamb oversees the action with all the finesse of a shark in a swimming pool."
—Metro News (UK)

"Brilliant."
—The Boston Globe

"Terrific . . . A heady mixture of deadpan humor, deft characterizations, and acute insight."
—Publishers Weekly, Starred Review 

"All espionage aficionados are—or soon will be—reading Herron. But it's high time, too, that readers of literary fiction embrace him in the way they have John le Carré."
—Booklist, Starred Review

"Terrific . . . it's a real pleasure to watch the super-smart if damaged Slough House agents rising to the occasion."
—The Seattle Review of Books

"Snappy dialog, crafty twists . . . I've enjoyed each of the books in this series and always find them hard to put down."
—A Fresh Fiction "Fresh Pick"

"Droll, fast-paced, and with a cast of crazy characters, you wouldn't want to work at Slough House but you certainly want to read about it."
—Bookgasm 

"[Herron] does it all with a darkly deadpan humor that is as scathingly funny as it is irreverent. There's no let up, no let down, it's one hell of a tale told masterfully."
—Open Letters Monthly

"Laced with black humor, this intense fourth in the series won the 2017 Steel Dagger Award."
—Reviewing the Evidence

Praise for the Slough House novels
 
"[Herron is the] le Carré of the future . . . The characters are brilliant."
—Patrick Neale on BBC's The Oxford Book Club
 
"Heroic struggles, less-heroic failures and a shoot-out-cum-heist . . . with no let-up in the page turning throughout."
—Esquire
 
"Herron's strength is in examining at close hand the absurdities, conflicts, and dangers of the intelligence agency as an institution at the center of some of the most central conflicts in the 21st century."
—Los Angeles Review of Books
 
"[Reads] like an episode of Spooks written by Ricky Gervais . . . With his poet's eye for detail, his comic timing and relish for violence, Herron fills a gap that has been yawning ever since Len Deighton retired."
—The Daily Telegraph, ★ ★ ★ ★ ★
 
"A superb thriller . . . Herron may be the most literate, and slyest, thriller writer in English today."
—Publishers Weekly, Starred Review
We appreciate your continued support!
If you would like to make a donation to help us through CLICK HERE.