Simon Leach's Pottery Handbook: A Comprehensive Guide to Throwing Beautiful, Functional Pots (Spiral bound)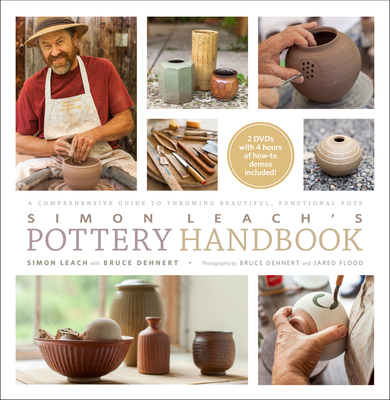 $38.50
This item is not currently available to order.
Description
---
At one time or another, every potter gets frustrated at the wheel. Whether struggling to center the clay or attach a handle with precision, potters of all levels crave advice and answers, and world-renowned ceramicist and YouTube sensation Simon Leach has plenty to give. In Simon Leach's Pottery Handbook—a book-and-DVD package—he presents clear tutorials and loads of original instruction on all of the core techniques, from studio setup to basic throwing, to applying appendages, trimming, glazing, and firing. For each technique, detailed step-by-step photography captures the subtle, intricate movements that typically fly by too fast to be learned when watching a video lesson; callouts then lead readers to the relevant video on the DVD so they can see the technique demonstrated in real time—an ideal combination that makes learning from the master easy.



Praise for Simon Leach's Pottery Handbook:



"A definitive guide for every step of pottery making." —Publishers Weekly



"Third-generation potter Leach, with technical and photographic assistance from Bruce Dehnert and Jared Flood, capitalizes on his celebrity with an amazingly detailed, step-by-step text for all major processes in ceramics. The in-depth perspective starts with his directions for making simple tools (a wire tool and a sponge stick) and is bolstered by charts and information-packed sidebars (e.g., for removing air bubbles and troubleshooting your first pull). Every topic that novices must master is covered, such as working basic shapes (cylinder and variations dishes) trimming, decorating and glazing, and firing." —Booklist 



"This book has some of the most gorgeous photography I've seen…" —Susan B. Anderson blog



"Among how-to books, this volume stands out. This gem is as carefully honed as the skills it seeks to share." —American Craft



"For those of us who learn best with a combo of text and demonstrations, Simon Leach's new book is the perfect fit." —Ceramics Monthly











 
About the Author
---
Simon Leach is an internationally celebrated third-generation ceramicist, descended from the renowned Leach family of Cornwall, England. He can be seen online, demystifying techniques at his potter's wheel in his more than 800 YouTube videos (simonleachpottery.com). He also teaches hands-on workshops throughout the country. He lives in Williamsburg, Pennsylvania.

Bruce Dehnert is the head of the ceramics program at Peters Valley Craft Center in New Jersey.