Strategies for Differentiating Instruction: Best Practices for the Classroom (Paperback)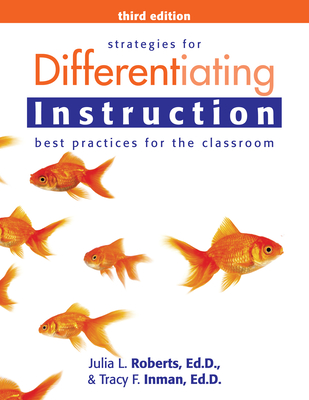 $40.43
This item is not currently available to order.
Description
---
This updated edition of the best-selling Strategies for Differentiating Instruction offers practical strategies that allow all students to learn at appropriately challenging levels and make continuous progress by focusing on their various levels of knowledge and readiness to learn. Written in a teacher-friendly manner, the book presents strategies that can be used in any classroom to ensure that each student's needs are met. This third edition includes strategies for Common Core State Standards alignment plus new Developing and Assessing Products (DAP) tools for a variety of products. Designed specifically for teachers who are new to differentiated instruction, this book offers sound, practical advice for preassessing students, implementing differentiation strategies, and managing and assessing student learning. This book is filled with the essentials teachers need to know in order to differentiate instruction and address all students' needs, interests, and abilities.
About the Author
---
Julia Link Roberts, Ph.D., is the Mahurin Professor in Gifted Studies and director and founder of The Center for Gifted Studies at Western Kentucky University. Dr. Roberts was named a Distinguished Professor at Western Kentucky University and was honored as the first recipient of the National Association for Gifted Children David W. Belin Advocacy Award. She was also named Executive Director of the Center for Gifted Studies and the Gatton Academy of Mathematics and Science in Kentucky.Tracy Ford Inman has devoted her career to meeting the needs of young people, especially those who are gifted and talented. She has taught at both the high school and collegiate levels, as well as in summer programs for gifted and talented youth. This Who's Who Among American Educators was a Kentucky Teacher of the Year semifinalist in 1992, and now serves as Associate Director of The Center for Gifted Studies at Western Kentucky University in Bowling Green. Inman has presented papers at both state and national levels and has been a writer and editor for The Challenge, an award-winning news magazine of The Center for Gifted Studies. At Western Kentucky University, she earned a bachelor's degree in English in 1986, secondary teacher certification in 1988, a master's degree in education in 1992, and an endorsement in gifted education in 2001.