Robert Sengstacke Abbott: A Man, a Paper, and a Parade (Change Maker Series) (Paperback)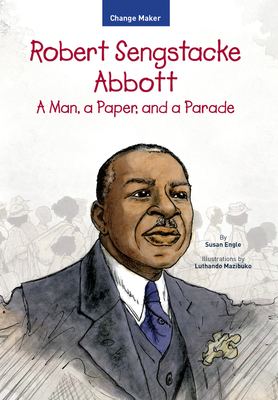 $9.95
This item is not currently available to order.
Description
---
Robert Sengstacke Abbott: A Man, a Paper, and a Parade is the biography of Robert Abbott, who founded The Chicago Defender, one of the first influential newspapers for African Americans, in 1905. Through the medium of this publication, Robert Abbott was able to uplift and inspire generations of African Americans and to encourage them to fight for equality during a time when many were deprived of basic freedoms and were under the thumb of Jim Crow Laws. Inspired by the descriptions in The Chicago Defender and other newspapers of life in the northern United States, many African Americans journeyed north and found ways to escape the unjust laws that had oppressed them in the southern states. This is the first title in the newly launched Change Maker Series from Bellwood Press. Books in this series are aimed at middle grade readers and tell the stories of dynamic individuals who made a difference by dedicating their lives to bringing about social change.
About the Author
---
Susan Engle earned a BFA in Theater Arts from Denison University in 1972—which included an apprenticeship at the Metropolitan Opera in New York City—and began to work as a stage manager for the New Mexico Symphony Orchestra the following year. After her twin daughters were born in 1973, Susan began writing songs and poems for children. In partnership with friends and family, she published more than seventy over the years, including several award-winning music CDs such as Come and Sing and Loving Hands that were written especially for children and families. Since her retirement in 2017, Susan has been writing and publishing tiny books. To see them and read her poetry, visit www.IambicNana.com. She currently resides in West Lafayette, Indiana.
Praise For…
---
"Robert Sengstacke Abbott: A Man, a Paper, and a Parade is both historically fascinating and inspirational. This is a story that all children should read or have read to them... A wonderful story told with passion." —Emily-Jane Hills Orford, https://readersfavorite.com/