The Seventh Wish (Hardcover)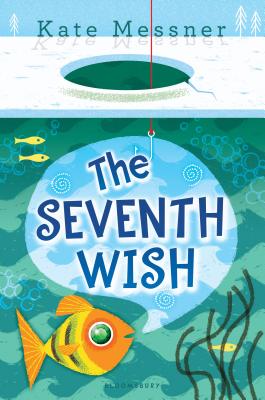 $18.69
This item is not currently available to order.
Description
---
With the same warmth and fun that readers loved in All the Answers, award-winning author Kate Messner weaves fantasy into the ordinary, giving every reader the opportunity to experience a little magic.

Charlie feels like she's always coming in last. From her Mom's new job to her sister's life away at college, everything else always seems to be more important than Charlie's upcoming dance competition or science project. Unsure of how to get her family's attention, Charlie comes across the surprise of her life one day while ice-fishing . . . in the form of a floppy, scaly fish offering to grant her a wish in exchange for its freedom.

Charlie can't believe her luck until she realizes that this fish has a funny way of granting wishes, despite her best intentions. But when her family faces a challenge bigger than any they've ever experienced, Charlie wonders if some things might be too important to risk on a wish.
About the Author
---
Kate Messner is a New York Times–bestselling author of multiple children's books, among them Over and Under the Pond, Up in the Garden and Down in the Dirt, The Brilliant Deep, and How to Read a Story. Before becoming a full-time writer, Kate was a TV news reporter as well as an educator who spent fifteen years teaching middle school English. These days, she splits her time between Lake Champlain and southwest Florida and is trying to summit all forty-six Adirondack High Peaks in between book deadlines.
Praise For…
---
"An empathetic, beautiful, magical, fiercely necessary book that stares unflinchingly at the very real challenges contemporary kids face and gently assures them they are not alone. Kate Messner gives her readers a story to cherish." - Anne Ursu, author of BREADCRUMBS and THE REAL BOY

"Hopeful, empathetic, and unusually enlightening." - starred review, Kirkus Reviews

"Rich and daring . . . As she did in All the Answers, Messner lightens a heavy theme with a bit of magic." - Publishers Weekly

"A charming fantasy story with threads of several deep themes that could serve as the basis for thoughtful discussion." - School Library Journal

"Messner uses her particular brand of magical realism to face some tough but necessary stuff. . . . An enjoyable and informative story." - BCCB

"Messner melds realism with a bit of magic for a charming middle grade story. . . . Charlie's determination and spunk will appeal to readers." - School Library Connection

"Messner writes insightfully of Charlie's experiences." - Booklist

"It's no surprise that Kate Messner's magic pen could write a charming, moving, funny, and ultimately very surprising story about a magic pencil!" - Wendy Mass, New York Times best selling author of 11 BIRTHDAYS, on ALL THE ANSWERS

"Messner (Manhunt) has created a relatable, sympathetic character in anxious Ava, and her story is at its best when Ava's life remains centered around the norms of her school, friends, and multigenerational family." - Publishers Weekly on ALL THE ANSWERS

"Ava learns lessons about coping and bravery that should resonate with middle grade readers struggling with their own anxieties . . . An emotionally resonant portrait of a sweet girl whose struggles are firmly rooted in reality." - Booklist on ALL THE ANSWERS

"Will appeal to Wendy Mass fans as well as those who love Messner's previous novels." - School Library Journal on ALL THE ANSWERS