Flora: A Novel (Paperback)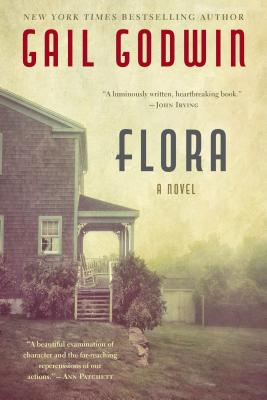 $17.60
This item is not currently available to order.
May 2013 Indie Next List
---
"In the last months of America's war with Japan, ten year old Helen is left in the care of a relative from Alabama one summer while her father leaves to work on a secret government project. A polio scare soon quarantines the two women at home, unable to escape each other. Finn, a former mental patient who delivers food to the house, soon becomes the object of attention for both women. The trouble, as Helen sees it, is that she is the most mature female in the house, and feels she is the one in control, until tragedy strikes on a deserted road one evening and she discovers the truth. Anyone curious as to why Gail Godwin has been honored with so many awards only needs to read this book to learn why. A clever, heart-felt, and often funny tale of learning to accept the ups and downs that life throws our way. Highly recommended."
— Hunter Coleman, The Alabama Booksmith, Birmingham, AL
Description
---
Ten-year-old Helen and her summer guardian, Flora, are isolated together in Helen's decaying family house while her father is doing secret war work in Oak Ridge during the final months of World War II. At three, Helen lost her mother, and the beloved grandmother who raised her has just died. A fiercely imaginative child, Helen is desperate to keep her house intact with all its ghosts and stories. Flora, her late mother's twenty-two-year-old first cousin, who cries at the drop of a hat, is ardently determined to do her best for Helen. Their relationship and its fallout, played against a backdrop of a lost America, will haunt Helen for the rest of her life.
This darkly beautiful novel about a child and a caretaker in isolation evokes shades of The Turn of the Screw and also harks back to Godwin's memorable novel of growing up The Finishing School. With a house on top of a mountain and a child who may be a bomb that will one day go off, Flora tells a story of love, regret, and the things we can't undo.
About the Author
---
Gail Godwin is a three-time National Book Award finalist and the bestselling author of twelve critically acclaimed novels, including Violet Clay, Father Melancholy's Daughter, Evensong, The Good Husband and Evenings at Five. She is also the author of The Making of a Writer, her journal in two volumes (ed. Rob Neufeld). She has received a Guggenheim Fellowship, National Endowment for the Arts grants for both fiction and libretto writing, and the Award in Literature from the American Academy of Arts and Letters. Gail Godwin lives in Woodstock, New York.
Visit her website at www.gailgodwin.com
Praise For…
---
"Remorse may be the defining emotion for our narrator, Helen, but Godwin the writer has nothing to regret: Flora is an elegant little creeper of a story." —Maureen Corrigan, NPR Fresh Air
"Godwin is repelled by the saccharine psychology of our age. In her finest books, including the three that have been finalists for the National Book Award, we confront spiritual matters in unusually hard terms . . . [The narrator's] recollection of that tragic summer, turned over and over in her mind for years, is something between a search for understanding and a mournful confession. But finally it's a testament to the power of storytelling to bring solace when none other is possible." —The Washington Post
"Three-time National Book Award finalist Godwin creates memorable characters and conversations that carry us effortlessly toward a dark denouement, one that infuses the rest of Helen's life with profound appreciation for Flora's unguarded heart." —People
"Flora is Godwin at her best, a compelling story about Helen's growth of consciousness told with fearless candor and the poignant wisdom of hindsight." —Boston Globe
"Like Turn of the Screw and Atonement, Flora is a study of the way ghosts can haunt our childhood memories while guilt haunts our lives." —Wiley Cash, author of THIS DARK ROAD TO MERCY