Blacklisted!: Hollywood, the Cold War, and the First Amendment (Hardcover)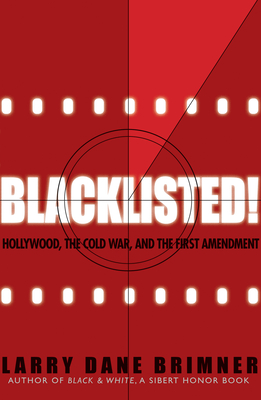 $19.75
This item is not currently available to order.
Description
---
A Kirkus Reviews Best Children's Book
NEW FROM 2018 SIBERT MEDALIST LARRY DANE BRIMNER! Here is the story of 19 men from the film industry who were investigated for suspected communist ties during the Cold War, and the 10--known as the Hollywood Ten--who were blacklisted for standing up for their First Amendment rights and refusing to cooperate.

World War II is over, but tensions between the communist Soviet Union and the US are at an all-time high. In America, communist threats are seen everywhere and a committee is formed in the nation's capital to investigate those threats. Larry Dane Brimner follows the story of 19 men--all from the film industry--who are summoned to appear before the House of Representatives Committee on Un-American Activities. All 19 believe that the committee's investigations into their political views and personal associations are a violation of their First Amendment rights. When the first 10 of these men refuse to give the committee the simple answers it wants, they are cited for contempt of Congress and blacklisted.
About the Author
---
Larry Dane Brimner is the recipient of the 2018 Robert F. Sibert Award for the most distinguished informational book for children for his title Twelve Days in May: Freedom Ride 1961. He is known for his well-researched, innovative, and award-winning nonfiction for young readers, and is the author of multiple acclaimed civil rights titles, including Strike!: The Farm Workers' Fight for Their Rights; and Black & White: The Confrontation between Reverend Fred L. Shuttlesworth and Eugene "Bull" Connor.
Praise For…
---
★"Brimner brings to life a shameful episode in American history when citizens working in the film industry were accused of disloyalty and subversion and persecuted for defending their First Amendment rights. (He) vividly chronicles the hearings and their fallout, braiding stories of individuals into the overall narrative. Drawing heavily on hearings transcripts, Brimner also includes a great deal of historical background to put the story in context… and he challenges readers to consider if things are all that different today, citing contemporary examples. A chilling look at a time when the government waged war on civil liberties, with the public a complicit ally." – Kirkus Reviews, starred review

★ "This is a fascinating look at a part of U.S. history that should be included in public and school libraries." -School Library Journal, starred review

★ "The author of the Sibert Award-winning Twelve Days in May (2017), Brimner presents an informative account of the HUAC hearings and their repercussions for the Hollywood Ten. In the chapters covering those hearings, the extensive use of quotes gives the writing great immediacy, while the commentary clearly explains the motivations of the committee members and the viewpoints of those called to testify before them…(T)his tightly focused book presents a meticulously detailed narrative of events related to the 1947 hearings. More broadly, Brimner offers a cautionary tale about the damage done to individuals and society when constitutional rights are denied by officials sworn to uphold them." – Booklist, starred review

"Brimner provides a cinematic recounting of the 1947 investigation into the motion picture industry by the House Un-American Activities Committee. Extensive quotes…help to recreate the struggle…Throughout, Brimner provides necessary context and clearly explains each stage of the proceedings…Abundant archival material, bibliography, and sources are included as back matter." – Publishers Weekly

"This is a gripping and timely topic… engrossing... (s)ource notes, a bibliography, and index will be helpful to students." - The Bulletin of the Center for Children's Books