The Easy 5-Ingredient Slow Cooker Cookbook: 100 Delicious No-Fuss Meals for Busy People (Paperback)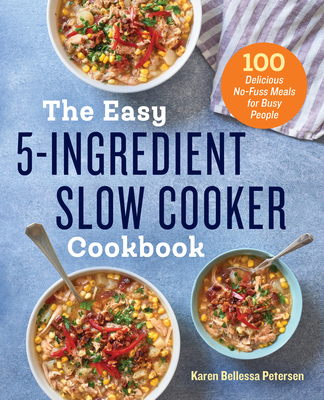 $17.99

Available in our Warehouse: Usually Ships in 3-8 Days
Description
---
Making delicious home-cooked meals is a snap with this slow-cooker cookbook.
Deciding what's for dinner doesn't have to be a panic-filled, last-minute decision.
The Easy 5-Ingredient Slow Cooker Cookbook
is designed to make things deliciously fast and easy for busy home cooks—with no-fuss meals that anyone can make.
From Apple-Cinnamon Oatmeal and Mexican Corn Chowder to Beer Brisket and Banana Bread, this slow cooker cookbook is filled with savory, limited-ingredient recipes. Take just a few minutes to prep and set in the morning and unveil a complete, mouthwatering meal in time for dinner.
The Easy 5-Ingredient Slow Cooker Cookbook
includes:
100 effortless recipes—Breakfasts, stews, desserts, and more…choose from loads of 5-ingredient, slow cooker recipes that take 15-minutes or less to prep.
Great tastes that are good for you—Whole food recipes—complete with detailed nutrition info—help you keep home cooking healthy.
One-pot meals—You won't need sides thanks to this slow cooker cookbook—recipes are complete, delicious, and satisfying meals all on their own.
Discover how simple home-cooked dinners can be with
The Easy 5-Ingredient Slow Cooker Cookbook
.
About the Author
---
KAREN PETERSEN is a busy mother of two and author behind the popular food blog 365 Days of Slow Cooking. Caught between busy schedules and raising her kids, Karen began developing recipes for her slow cooker to reclaim time for herself. She shares her recipes in the The Easy 5-Ingredient Slow Cooker Cookbook so others can enjoy dinner without rushing to make it.
Praise For…
---
"If you are a busy mom, then you need this cookbook in your life. Recipes are easy to prepare and are delicious. I love that I can quickly prep dinner in the morning before I leave for work, throw it in the slow cooker, and a delicious dish is waiting for my family and I when I arrive home."—Cheryl H.

"I bought this book because I love the author's recipes on her blog! I wanted to replace my other crockpot cookbooks with one that had less processed ingredients and this cookbook did not disappoint! I also love that she does not use obscure ingredients that are not easy to find. Excited to add this cookbook to my collection!"—Rebecca G.

"I was so excited when I received the book! I love using my slow cooker, and I have enjoyed her other books as well! This is a great book for someone starting to use slow cookers! I can't wait to try the recipes! Five stars, no doubt about it!"—Kelsey