Soul Authority: Liberatory Tools to Heal from Oppressive Patterns and Restore Trust in Your Heart Compass (Paperback)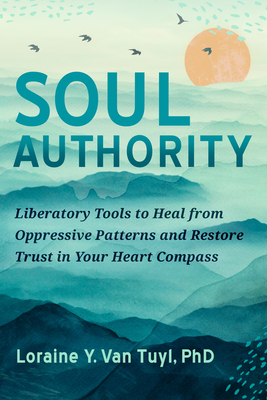 $19.95
This item is not currently available to order.
Description
---
Reconnect to your soul's innate wisdom with ancient healing practices, nature-based wisdom, and psychological principles--live authentically, nourish your inner power, and be a force for personal and collective liberation.

If you've ever wondered what was missing--or felt out of step with the social and cultural programming of the westernized worldview--Soul Authority will empower you to find balance, build your soul sanctuary, and become a powerful agent of positive transformation.

There is a soul authority that exists in all of us, a higher knowing that connects us to each other, the living Earth, and back to ourselves--even as we live in a world that sows division, destruction, and uncertainty. Shamanic eco-psychologist Loraine Van Tuyl, PhD, shows you how to tap into this innate wisdom, giving you the tools to trust its insights, hear its voice, and come home to our interrelated collective soul.

Interwoven with stories from the author's personal journey from growing up in Suriname during a military coup to pursuing her doctorate in clinical psychology amid a profound spiritual awakening, Soul Authority is an inspiring alchemical exploration of rekindling the deep knowing that's accessible to all of us.

Through exercises, reflections, and concrete action steps, you'll discover:


• How to find your own True North, the guiding compass aligned with your inner truth

• Practical skills for combatting the burnout, overwhelm, and disconnection that prevents us from making a bigger impact in the world

• How to tap into the soul mission that nourishes your purpose

• How your healing journey and collective liberation are interconnected

• How to heal the "ancestral deficit" and "nature deficit" that leave you overwhelmed

• Strategies for grounding, clearing, visibility, and creativity




About the Author
---
Loraine Van Tuyl, PhD, is a licensed clinical psychologist and shamanic ecopsychologist who has distilled thirty years of well-rounded and diverse professional experiences into an elegant and seamless integration of modern psychological expertise, ancient healing practices, and nature wisdom. Soul Authority, her cutting-edge magnum opus, addresses the most critical and salient social and mental health crises of our times. It is informed by her lifelong commitment in guiding and supporting the anti-racist and anti-sexist activism and soul missions of hundreds of transformation trailblazers in psychology, holistic health, academia, the arts, renewable energy, economics, social justice, social work, and spiritual entrepreneurship. Van Tuyl has written extensively about her re-naturing, ego-eco healing system as a contributor author for Thrive Global, Rebelle Society, Elephant Journal, and Medium, and has presented her work at the UC Berkeley Counseling Center, the American Center for the Integration of Spiritually Transformative Experiences, the Association for Transpersonal Psychology, the Native American Health Center, and the Mind & Life Institute.
Praise For…
---
"Dr. Van Tuyl's highly readable book is exactly what the world needs right now. Her Soul Authority system has offered me the tools and the robust yet malleable framework I need to reconnect to my core self, heal intergenerational trauma, and move through life feeling more grounded, centered, and empowered."
—Sharline Chiang, writer, activist, and co-host of Democracy in Color

"Dr. Van Tuyl's provocative deep dive into the tremendous upheaval caused by today's social, environmental, and political tsunamis lays a solid foundation that will inspire readers to transform from passive spectator to committed change agent. Her seasoned professional experience shines through as she takes the reader on a journey to release buried shackles of old trauma and heal soul wounds. Her pitfall alerts, relatable examples, research-based nuggets, highlights of Soul Authority sessions, and step-by-step meditation scripts to reconnect with the elements made me feel as if I was being accompanied by a trusted guide while exploring a fresh and unorthodox path of transformation and realignment."
—Mirella Baker Bemmel, EdD, sociology professor, founder of Next Level Educators, and author of Building Blocks to an Abundant Life

"Soul Authority is incredibly rich, complex, and nuanced in both its breadth and depth, yet approachable for readers of diverse backgrounds and all levels of contemplative practice. Van Tuyl's innovative approach is grounded in her professional, spiritual, and multicultural histories and informed by current-day events that readers will recognize as touchstones of their own. Rather than follow a specific program to arrive at a specific conclusion, I felt invited to pull from a rich compendium to discover and develop my own innate wisdom and "soul authority." Parts of this book skillfully anchored me in familiarity and parts invited me to explore, stretch, and grow."
—Peggy Acott, certified life-cycle celebrant and co-author of Portland Made

"The Soul Authority methods that Loraine Van Tuyl has streamlined in her book provide an essential key to unlocking emotional resiliency and are helping me to tackle every challenge in my life and career. I recommend it to other empaths in search of healing and intuitive insight on how to uncover the dazzling potential and inherent power present in their sensitivity."
—Lily Roberts, MA, JD, attorney

"Loraine Van Tuyl's Soul Authority provides a road map to the spiritual solace and strength we all need to shed our chains of internalized oppression. Now more than ever, we need the teachings highlighted on these pages to repair and empower our individual and collective lives. As someone who was seeking their Soul Authority and found it with the guidance offered in this book, I cannot
recommend it enough!"
—Esperanza Padilla, co-president of Spectrum: Autism at Cal

"In this exquisite guide to personal and planetary healing, Dr. Loraine Van Tuyl has crafted a warm invitation to explore our own soul authority and showcases how this deeper work can build a better, more equitable and just world. Reading her book was a deeply transformational and emotional experience for me. It was both refreshing and relieving to feel immersed in a vast community of like-minded folks committed to this internal healing and external work. Soul
Authority is essential for those of us doing both spiritual and social justice work, and is an absolute joy to read! I am so grateful to have these tools at my disposal and feel energized to continue sharpening my soul authority using the wisdom of the Earth's four elements and the brilliance of my own inner sanctuary."
—Jessica Calvanico, PhD, feminist and racial justice researcher, educator, and writer

"Dr. Van Tuyl's book will take you on a rich and courageous journey towards a path of discovering your own soul authority and potential. I gained much insight into our personal connection to the environmental, political, and social challenges we face in today's world. As a sensitive soul, I found myself intimately reflected throughout her book, and saw it as a call to action. The action of coming home to myself, with the deep understanding that renaturing myself is essential in living my soul's purpose to help heal our world. I found myself filled with hope and equipped with expansive tools to open up to the inner wisdom provided by nature and ancestral guidance. This book has empowered me to step into the truth of who I am—divinely guided, loved, and supported in all directions."
—Laviza Fuentes, Master's student in counseling psychology